After hitting a high of $140 per share in March, Medivation Inc (NASDAQ:MDVN) has been on a downward trend despite nothing but good news flowing out of the company. As I'll discuss below, the ~40% drop in the last several months is largely based on rumors and assumptions which have turned out to be false. Medivation is printing money with its blockbuster prostate cancer drug Xtandi which shows no signs of slowing down. A couple weeks ago, the company released its best quarter to date, blowing away even the most aggressive estimates with worldwide Xtandi sales of $487 million. The ~$2 billion run rate Xtandi is on is extremely impressive considering it has only been approved for use in the pre-chemotherapy market for less than a year.
In fact, due to its superior efficacy and ease of use, Xtandi has already matched the revenue of its rival Johnson & Johnson's Zytiga despite being on the market 2 years less. With Xtandi moving further upstream in prostate cancer treatment, patients remaining on the drug longer, continued uptake by urologists and baby boomers aging, Xtandi sales will only continue to grow.
The success of Xtandi has allowed Medivation to expand beyond prostate cancer and not only move the blockbuster drug into other cancer indications like breast cancer, but also progress other candidates towards FDA approval. The acquisition of BioMarin's PARP inhibitor Talazoparib last week gives Medivation a low-risk drug already in over 15 clinical trials and a Phase 3 breast cancer trial. In addition, Medivation will move its PD-1 inhibitor Pidilizumab into a Phase 3 clinical trial this year in a hematological malignancy. Interestingly, a few days ago, Northwestern University in collaboration with the National Cancer Institute initiated a Phase 2 clinical trial with Pidilizumab in patients with Large B-Cell Lymphoma. Medivation management has also announced they will introduce an in-house drug candidate into the clinic this year as well. Now, in addition to Xtandi, Medivation has a strong, low-risk drug pipeline and has developed into a full-fledged cancer-focused biotech company. You will not find a better mid-sized biotech than Medivation on the market, especially with the dirt cheap market cap it currently sports of ~$7 billion. Historically, there has never been a company with a drug that has reached a billion dollar in sales that did not get acquired or go on to become a biotech behemoth. Medivation will be no different.
False Rumors and Misguided Analyst
There were 2 downward catalysts which sparked major sell-offs in Medivation. Both of them proved false but the stock has yet to recover. Analysts first rang the alarm when ASCO published a paper detailing its new benefit based scoring system and used Zytiga versus Xtandi as an example in post-chemotherapy prostate cancer. Zytiga scored higher since it was awarded additional points for patient pain relief data. However, Xtandi pain relief data had been published and is in fact better than Zytiga, but the ASCO authors only cited one published paper in their study. I contacted the head author of the ASCO scoring system who explained this was just an example for the article of how the scoring system would be calculated and not the final ASCO scores. Final scores would be based on the totality of data, not simply one publication. Therefore, there was no merit to the rumors that Zytiga was favored over Xtandi by ASCO.
Despite having a very poor track record covering Medivation, Cowen analyst Eric Schmidt sent shares reeling in July when he predicted Xtandi sales were faltering based on available IMS data. He even released a note ahead of earnings entitled "Caution Ahead: All Signs Point To An Xtandi Slowdown." A couple weeks later, Medivation released its best quarter to date, blowing away even the most aggressive estimates with Xtandi sales of $487 million. Embarrassingly, Cowen released a statement following earnings basically saying they don't understand how sales were so high. It is well known that IMS data does not capture all prescription sales. Analysts should have learned that long ago when trying to track Gilead's (NASDAQ:GILD) Sovaldi sales. The IMS and Symphony prescription estimates does not match well with what Medivation and Astellas have reported for prescription volumes in earnings reports. The true prescription numbers reflect nothing but continued growth for Xtandi.
If one goes back and reads Eric Schmidt's analysis of Medivation, he has always been bearish and yet to be right on most all his predictions. In February 2013, Schmidt released a note stating that urologists would only write 14% of Xtandi prescriptions in 2015 and 15% in 2016. Last earnings call Medivation stated urologists accounted for over 20% of scripts written and the number is growing. Now Schmidt is predicting that Medivation will have a hard time reaching $3 billion in sales by 2019, which would only represent a tad more than 5% sequential quarterly growth. Based on his previous track record and the Xtandi quarterly prescriptions growth chart, I believe this will be just one more prediction that falls flat.
Medivation Pipeline more than just Xtandi and Prostate Cancer
I've written numerous articles about Xtandi and its potential to grab a significant chunk of the huge prostate cancer market as urologist uptake increases and Xtandi moves further upstream in the treatment setting. I'm not going to focus on that in this article. One of the biggest critiques of Medivation is that it is a one trick pony with Xtandi in prostate cancer. It's a nice multi-billion dollar pony but investors want to see diversification and a drug pipeline to build the business further. Medivation is answering the call by acquiring low-risk, late stage clinical drugs with proven efficacy and mechanistic action. Medivation is close to moving Xtandi into a Phase 3 trial for triple negative breast cancer (TNBC) treatment, which as I've written about previously, has a billion dollar potential. Dr. Traina from Memorial Sloan Kettering Cancer Centerdescribed the Phase 2 data as the most exciting data ever seen in TNBC.
Medivation also has a late-stage clinical drug in the PD-1 inhibitor Pidilizumab which it plans to initiate a Phase 3 clinical trial this year in a hematologic malignancy. Management believes their inhibitor is best-in-class due to the way the antibody was developed. It was not generated against a purified PD-1 protein like the others but instead was generated against a lymphocyte cell line, which is believed to positively impact the immunomodulatory effects of the antibody. Publications from Dana-Farber and MD Anderson have illustrated the significant clinical activity in Phase 2 studies. With PD-1 inhibitors estimated to bring in billions in sales and be the pillar for drug combination treatment for a variety of tumor types, having a best-in-class drug could be big for Medivation.
Management has proven with Xtandi that you don't need to be first to market to capture the lion's share of business. You need to have a best-in-class drug with a beneficial side effect profile and ease of use. The acquisition of BioMarin's PARP inhibitor Talazoparib last week gives them just that.
Talazoparib is Best-in-Class PARP Inhibitor
Medivation got a steal when it acquired Talazoparib from BioMarin last week for $410 million upfront and up to $160 million in milestone payments. Royalty payments upon FDA approval is only in the mid-single digits, allowing Medivation to keep most drug revenue for itself. Although on paper it looks like BioMarin got fleeced, the deal makes sense for them as well as they focus more on rare disorders and not cancer. Similar to Xtandi, Talazoparib will be applicable to numerous tumor types. Currently, the drug is in over 15 clinical trials in various tumor types including breast, ovarian, acute lymphoblastic leukemia, Ewing sarcoma, small cell lung cancer (SCLC), prostate cancer, pancreatic cancer, and endometrial cancer. Data from the Phase 1 clinical trial, in which Talazoparib was tested in patients with DNA repair gene mutations like BRCA1/2, was so convincing BioMarin skipped immediately to Phase 3 for breast cancer. In ovarian patients, 82% (23/28) experienced clinical benefit greater than 24 weeks and 44% (11/25) had confirmed RECIST responses (CR, PR).
Source: BioMarin 2013 ASCO presentation
Data for breast cancer patients were similar with a clinical benefit of 67% (12/18) and RECIST response rate of 50% (7/14). Median PFS is estimated to be 31 weeks in this cohort. Interestingly, in SCLC there were 2 patients with partial responses as well.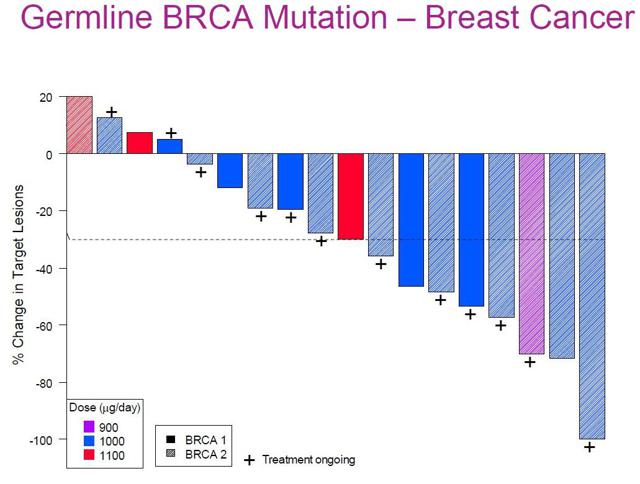 Talazoparib is currently in a large Phase 2 study with locally advanced and/or metastatic breast cancer with BRCA mutations termed the ABRAZO study. The study is broken out into 2 cohorts: Patients who have previously responded to a platinum-containing regimen for metastatic disease with disease progression > 8 weeks following the last dose of platinum and those who have received > 2 prior chemotherapy regimens and who have had no prior platinum therapy for metastatic disease. BioMarin released an update last month stating the number of clinical responses needed to expand enrollment were reached. In addition, the PARP monotherapy demonstrated for the first time ever tumor reduction in BRCA positive breast cancer patients previously treated with a platinum regimen. Dr. Hank Fuchs, the Chief Medical Officer of BioMarin stated:
We also are thrilled to have seen anti-tumor activity in patients previously treated with platinum regimens. This is an unprecedented finding in BRCA metastatic breast cancer, which may provide a further treatment option for these patients.
The trial is expected to be fully enrolled with 140 patients by the first quarter of 2016 with results by end of 2016. BioMarin management believes this Phase 2 study could support FDA registration.
The 420 patient EMBRACA Phase 3 study is being conducted at 126 locations and compares Talazoparib to physician's choice in patients with locally advanced and/or metastatic breast cancer with germline BRCA mutations. This study is expected to finish enrollment by first half of 2016. The primary objective will be PFS as monotherapy. It is highly likely that both these trials will have positive outcomes and support registration.
Other companies also have clinical trials ongoing with PARP inhibitors in breast cancer and most are scheduled to report data out around the same time. Talazoparib is considered best-in-class of PARP inhibitors with 100 times more efficient activity than AstraZeneca's Olaparib and Tesaro's Niraparib. Olaparib is currently the only FDA approved PARP inhibitor and its indication is limited to advanced ovarian cancer following three or more chemotherapy treatments. Due to Talazoparib's superior mechanistic efficiency, it has several benefits over other PARP inhibitors such as bioavailability and half life. The adverse side effect profile of Talazoparib appears to be beneficial when compared to those reported with Olaparib. For example, 7% of patients dropped out of Olaparib Phase 3 trial for adverse events while 0% discontinued the Talazoparib trial. When taking Talazoparib, 30% of patients experienced low level fatigue and 29% report nausea. The percentages were much higher in the Olaparib trial where 66% report being fatigued and 64% nauseous. Likewise, due to the more effective mechanism of action, Talazoparib is a once daily pill. Olaparib requires the patient to take 16 pills a day to reach the proper dosing. Therefore, similar to Xtandi's efficacy and ease of use advantages over Zytiga, it appears to be similar for Talazoparib versus Olaparib. Medivation management made it clear to analysts last week that they see clear advantages with their newly acquired drug in potency and side-effect profile compared to other PARP inhibitors in the clinic.
Some analysts believe the PARP inhibitor market is not substantial but this is simply not true. In the smaller niche Ovarian Cancer market AstraZeneca expects Olaparib to bring in close to $2 billion a year in sales. With PARP inhibitor clinical trials in progress which focus on efficacy in numerous other cancers, the numbers get very big very quick. In breast cancer, it is estimated that over 20,000 new cases of BRCA positive breast cancers will be diagnosed in 2015 alone. With a yearly price tag for Olaparib at $161,000, that would result in over $3 billion in sales. BioMarin has already stated that they believe the data they currently have for Talazoparib in ovarian cancer supports a Phase 3 program. With other cancer indications in progress like prostate cancer and SCLC, the PARP inhibitor market could be a big winner for Medivation.
The PARP inhibitor market is also poised to expand as other genes involved in DNA repair, in addition to BRCA 1 and 2, like ATM and PTEN are shown to affect the efficacy of PARP inhibitors. In accordance, the NCI started a clinical trial with Talazoparib in March entitled "Talazoparib Beyond BRCA Trial" where 12 additional genes are tested for mutations to determine the responsiveness to the drug. Likewise, testing for tumor mutations and not just germline mutations will further increase the eligible population for the drug.
Medivation Significantly Undervalued Compared to Peers
When trying to determine the value of a biotech company, one needs to look at many different variables such as drug pipeline potential, drug sales and acquisition potential. Medivation has made significant advancements with its drug pipeline, a blockbuster drug in Xtandi and strong acquisition potential. When making major acquisitions, large pharma needs drugs that can move the needle for their earnings and that's why mid-level companies with billion dollar sellers don't stay independent for long and demand a premium. The most similar example to Medivation is Pharmacyclics. Pharmacyclics only approved drug was Imbruvica which had revenue of ~$730M a year which was split with Johnson & Johnson. Medivation's Xtandi is at a $2 billion run rate and splits profits with partner Astellas. Both drugs are also moving into other cancer indications. AbbVie acquired Pharmacyclics for $21 billion, which is ~3 times the current market cap of Medivation. Again, it's important for investors to realize that historically mid-size biotechs with billion dollar drugs either get acquired or become huge companies. I fully expect to wake up one day and see the headline that Medivation was acquired for $250 a share.
In addition to acquisition potential, other mid-size biotechs are valued much higher than Medivation with less drug revenue. For example, Incyte has one FDA approved drug Jakafi which currently is on pace to generate $560 million in revenue in 2015 and per management description could have peak sales of $1.5 billion. Novartis owns all the ex-USA commercial rights. Incyte currently sports a $21 billion market cap. That's 3 times that of Medivation, even though Medivation's drug is already on pace to do over $2 billion in sales. Perhaps the biggest discrepancy is Vertex Pharmaceuticals which has 2 drugs approved for cystic fibrosis. Last quarter global drugs sales were $155 million. Even with Medivation splitting revenue with Astellas, it still made more revenue in its most recent quarter at $175 million. Vertex sports a market cap more than 4 times bigger than Medivation at ~ $31 billion. Although it's hard to compare biotech market caps as many are inflated based on potential, it's hard to argue that Medivation is not significantly undervalued.
Conclusion
Medivation stock has been on a downward trend the last several months fueled by false rumors regarding the new ASCO drug scoring system and a Cowen misinformed analyst downgrade. Its blockbuster prostate cancer drug Xtandi continues to blow away analyst estimates and is currently on pace to bring in ~$2 billion annually. Management has made significant strides in building a solid drug pipeline with 2 low-risk, best-in-class drugs Pidilizumab and Talazoparib in late stage clinical trials and the potential to expand into numerous cancer indications. Xtandi is also expanding outside of prostate cancer and will enter a Phase 3 study in TNBC. Lastly, Medivation is expected to have an undisclosed in-house developed compound enter the clinic in the near future. Following Medivation's stellar Xtandi growth, breast cancer data at ASCO and late stage pipeline, most analysts have recently slapped huge price target increases on the stock. Last week, William Blair raised their price target to $166 per share representing nearly a 100% gain from current levels. Likewise, Maxim Group and Canaccord Genuity reiterated their strong buy recommendations with price targets of $171 and $180, respectively. The overall price target from all 19 analysts following the stock is $133. Investors should rest easy as there has never been a biotech company with a drug doing over a billion dollars in sales that was not acquired or gone on to become a huge biotech behemoth. Whichever path Medivation goes down will reap huge rewards for investors.
Don't be late to the party – Click Here to see what 4500 Wall Street Analysts say about your stocks.