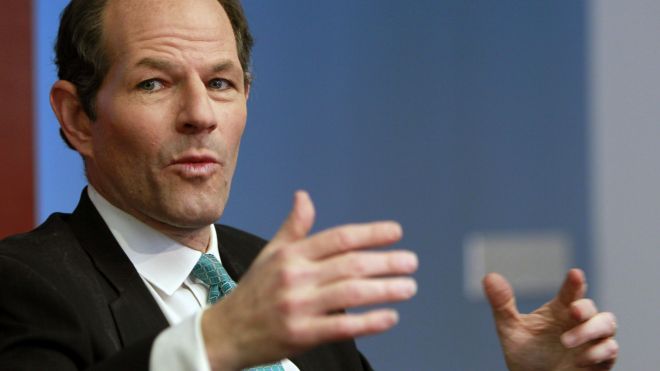 Former New York governor Eliot Spitzer is backing a company called TipRanks which rates and ranks over 4,500 Wall Street analysts. Users can search any stock to view the most successful analysts' recommendations.
Spitzer, who earned the nickname "Sheriff of Wall Street" for going after corrupt financiers, is also a committed advocate for analyst accountability: in 2003 he led an investigation into analysts issuing overly optimistic reports to secure work for colleagues. The largest financial firms subsequently settled for $1.4 billion.
Now he has turned his attention to one of the most crucial questions investors want answered before they follow analyst recommendations. "This is more important for investors," says Spitzer. "This isn't whether [analysts] are [misrepresenting companies] intentionally. This is simply, are they good or bad?"
He recently appeared on CNBC's Halftime Report with TipRanks founder and CEO Uri Gruenbaum to discuss this very question of whether investors can trust Wall Street analyst recommendations:
Founded in 2012, TipRanks measures the performance of Wall Street analysts against objective criteria such as success rate and average return. According to Gruenbaum "We provide our users with the simple answer of whether that guy can be trusted or not".
"There is a lot of bad advice making the rounds in top financial publications" Gruenbaum explained, "Let's face it, not all analysts are created equal. By scanning leading financing websites for analyst recommendations, TipRanks is able to provide relevant information regarding the analyst's performance history so that [investors] can make informed financial decisions."
Take, for example, Goldman Sachs tech analyst Heath Terry who is ranked #180 out of 4,513 analysts, with a success rate of 60% and an average return of 16.3% per recommendation (on the basis that each rating is measured over a 1 year period and no benchmark).
TipRanks now uses its natural-language-processing algorithms to track three other types of financial experts, namely corporate insiders, financial bloggers, and leading hedge-fund managers.
Investors can use these statistics to immediately discover the best financial experts who consistently outperform the market. In the words of Spitzer "this is information transparency the way nobody else provides it."