Apple Inc. (NASDAQ:AAPL) is engaged in designing, manufacturing and marketing mobile communication and media devices, personal computers, and portable digital music players. The Company's products and services include iPhone, iPad, Mac, iPod, Apple TV, a portfolio of consumer and professional software applications, the iOS and Mac OS X operating systems, iCloud, and a range of accessory, service and support offerings. It sells its products worldwide through its online stores, its retail stores, its direct sales force, third-party wholesalers, and resellers. Apple Inc. is headquartered in Cupertino, California.
June is the time for the annual Apple Worldwide Developers Conference (WWDC). Held in San Francisco, this event allows the company to present key updates and changes to Apple operating systems, apps, computers, phones, tablets, and other aspects of its business to the media and the programmers who provide additional software for the tech juggernaut.
This year's WWDC started Monday, and will run for the rest of the week. So far, the company has announced major updates and changes to both its computer and mobile operating systems. For the laptops and desktops, OSX will see a new iteration, OS X 10.11 "El Capitan." For those iPhones and iPads, iOS 9 will be released. It does not appear that these will be major upgrades, rather some additional features will be added, multi-tasking tweaked, Siri will be improved, etc. In addition, the latest Apple 'must have," the Apple Watch, will get an operating system update as well.
Perhaps the biggest news from WWDC so far is the announcement that the company will create its own streaming music service to be run from iTunes, "Apple Music." This wasn't much of a surprise, as the company has been positioning itself for this circumstance for years, and it was a major reason for the $3 billion deal to purchase Beats back in May, 2014. The new streaming service will launch at the end of this month and cost $9.99. Initially it will run on Apple systems only. Android users will have to wait until the Fall to use the service.
Perhaps what is most notable here–and what many analysts are discussing, is the genuine lack of a "WOW" factor. Apple has long been masterful at providing truly innovative products that simply cannot be ignored by its legions of "fanboys" and "fangirls." Basically on life support until the return of Steve Jobs and the creation of the iPod, iPhone, and iPad, Apple had products that were simply better than the rest with powerful, intuitive user interfaces that could not be matched.
However, the recent WWDC has left many wanting more. We don't see innovation here, we see imitation. Imitation of competitors reminiscent of –GASP–Microsoft. Except Apple is actually imitating Microsoft with some of its tweaks–like the changes made to iPads to allow app "splitting" which first appeared in Windows 8.
Or, the latest tweaks to the much-maligned Apple Maps app, which now feature integration for public transportation routes which has been available to Google Maps users for years? And the new "Proactive" feature for the iPhone which tailors phone content to the user in the same way Google's "Now" has also been doing for years?
Reporters and analysts are discussing many of the latest WWDC announcements in reference to other, existing applications, features, and competitors whereas everything used to be starting from the brain of Jobs and his highly-creative Cupertino team of developers and designers.
Of course, only time will tell if this is a problem, if Apple is faltering, or if the rest of the world has just caught up. It does not appear that users are any less enthusiastic for anything Apple. The initial Apple Watch sales data has been impressive–despite the typical hiccups with both hardware and software featured in the product. And, there have been reports that demand is outstripping supply.
Critics have been predicting the company's downfall for decades. But since the devilish inter day S&P 500 low of 666 on March 9, 2009, the stock is up @1000%. Now the most oft-cited issue is that the company is so big that similar growth cannot continue at the same pace. It's just a tech behemoth awash in cash and would have to consume so much of the rest of the competitive universe that it simply cannot go on the same way. The stellar track record has to come back down to Earth at some point, doesn't it?
One thing is for sure, the death of Apple co-founder and long-time CEO Steve Jobs hasn't had much of an effect on the stock's performance, and people betting against the company haven't done well. Our models remain enamored of the company, we have had a BUY on it since January 5, 2015.
FULL DISCLOSURE: While we must admit that we long ago put our Mac Mini and iPod touch out to pasture in lieu of a Dell Windows machine and a Google Android Nexus 7 tablet, we still get frustrated when we get text messages from friends we cannot read because we don't have an iPhone.
VALUENGINE RECOMMENDATION: ValuEngine continues its BUY recommendation on APPLE INC for 2015-06-09. Based on the information we have gathered and our resulting research, we feel that APPLE INC has the probability to OUTPERFORM average market performance for the next year. The company exhibits ATTRACTIVE Company Size and Sharpe Ratio.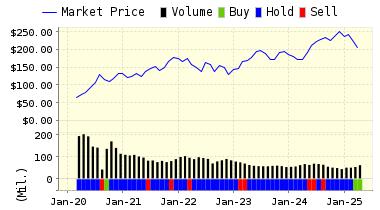 ValuEngine Forecast

Target
Price*

Expected
Return

1-Month

128.51
0.86%

3-Month

129.45
1.60%

6-Month

132.91
4.31%

1-Year

140.53
10.29%

2-Year

146.46
14.94%

3-Year

93.98
-26.24%
Valuation & Rankings

Valuation

13.64% overvalued

36

1-M Forecast Return

0.86%

1-M Forecast Return Rank

95

12-M Return

40.91%

90

Sharpe Ratio

1.06

93

5-Y Avg Annual Return

25.34%

5-Y Avg Annual Rtn Rank

92

Volatility

23.90%

71

Expected EPS Growth

9.32%

42

Market Cap (billions)

742.19

Size Rank

100

Trailing P/E Ratio

15.16

77

Forward P/E Ratio

13.87

Forward P/E Ratio Rank

68

PEG Ratio

1.63

PEG Ratio Rank

31

Price/Sales

3.50

28

Market/Book

6.17

22

Beta

0.83

Beta Rank

58

Alpha

0.29

Alpha Rank

90