Oil prices soared 29% in one week at the end of August. Specifically, the price of U.S. benchmark West Texas Intermediate (WTI) crude oil went from $38.09 per barrel to $49.20 per barrel. That's a 29.2% increase in just five trading days – one of the most extreme short-term rises we've ever seen.
Is this a new uptrend? Or is this some sort of "dead cat bounce" (as they say)?
The simplest answer is, yes, a big jump off a bottom like this is good for the price of oil based on history, particularly one year later. The hard part is timing the entry.
Let me explain…
The quick rise in oil prices was all over the headlines last month. In just five trading days, the price of oil increased 29.2%. That might seem like an impossible gain in just one week. But in the case of oil, 25%-plus one-week gains have happened several times over the past few decades. But this begs the question: Are these quick rallies a good thing or a bad thing?
History says we shouldn't bet on the price hike continuing in the short term. But the long-term story is different.
Take a look at the chart below. The arrows point to similar extremes in oil prices over history.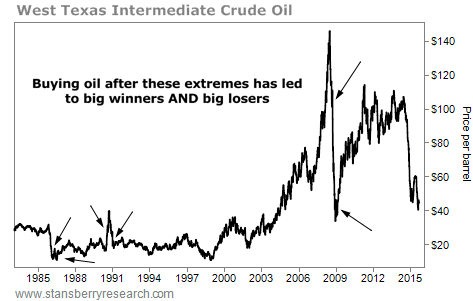 Some of these trades had good timing. Early 2009, for example, was a fantastic time to get long oil. But a few opportunities were bad times to get long.
The table below shows the results:
Returns After a 25%-Plus One-Week Gain

2 Weeks

1 Month

3 Months

6 Months

1 Year
Oil prices fell nearly 8%, on average, two weeks after these historical extremes. Traders took profits after such extreme moves to the upside. Oil prices were still down a month later. And returns were barely positive after three months. But that's where things get interesting…
Oil prices increased nearly 10% after six months. And they soared 24.4%, on average, a year after their 25%-plus one-week increases.
Based on historical price action alone, the oil price could fall a bit in the near term. But looking longer term, the recent spike in oil prices could be a good thing for the price of oil.
I'm not ready to get long oil or energy companies today. But if historical price action is any guide, after such a big move higher in one week, oil prices could be much higher a year from now than they are today.