by Douglas R Terry, CFA
As depicted by Macro Research Board, the current cycle has been "abnormal." The depth of the downturn in 2008 led to deleveraging and risk aversion in the financial and household sectors. This, coupled with the sheer weight of aggregate debt, has caused "a prolonged risk on/off environment."  This has "undermined investor confidence," and "slowed the transition between the policy-induced rally and growth-driven upleg" seen in previous cycles.
The GDP output gap remains and inflation is stubbornly low. But, global monetary policy remains accommodating.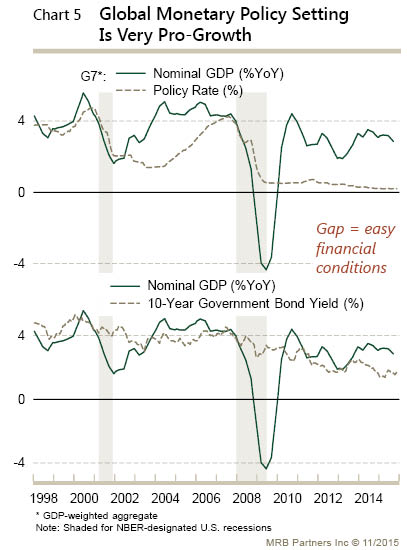 Bull markets typically end when policy becomes restrictive. This is not the case today.
The counter trend pull back and transition from the policy-induced rally to a growth-driven rally has been choppy. Recent geo-political events have exacerbated the risk on/off environment. Investors are extremely cautious right now, they fear rate hikes will undermining growth.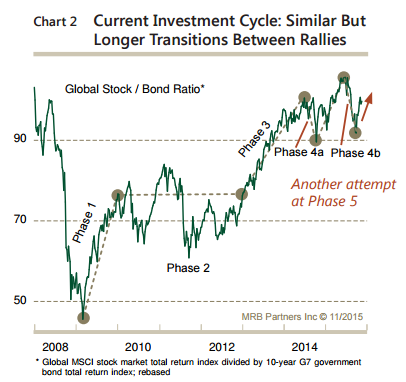 But factors still favor growth; and, the global economy and earnings are poised for improvement, strength and momentum. Should this transpire, it would support further equity advances and potentially lead to a high conviction rally. MRB's cyclical, phase 5 rally historically lasts 70 weeks and produces an average 40% stock market out-performance.