Gold stocks are trading at valuations not seen in decades, according to Tom Beck, senior editor of Portfolio Wealth Global. But conditions are ideal for a new gold bull.

History makes it clear that secular bull and bear cycles in gold are mostly correlated to one indicator: negative and declining real rates and real yields. That's the key driving force.
Supply and demand for gold are unlike other commodities. The overwhelming majority of gold produced isn't consumed; therefore, its supply keeps on growing.
That's why investment demand is the determining factor that drives the price higher or lower. In times of positive real interest rates, there is little incentive to hold gold, which is why it has underperformed under those circumstances.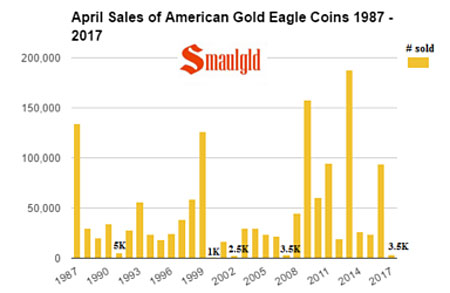 Courtesy of Smaulgld.com
Right now, investment demand is at a 10-year low. We all know that central banks do not report their leasing, buying, or selling of gold—especially in China, where gold holdings are kept confidential. Moreover, while we are all aware of the London and New York paper manipulation and smashing of gold contracts, this chart at least partially shows that many gold buyers have turned into S&P 500 buyers. They couldn't resist any more.
Inflation has cooled its progress and yields are kept low, so we are mostly in ideal conditions for a renewed bull market in gold after six brutal years. But there isn't a green light yet.
The fact is that the 2011 bear market—which hasn't officially finished selling out yet—is normal.
Yes, it is long. Yes, it has wiped out a ridiculous number of stocks from the exchanges, but that is the nature of gold bear markets. Rick Rule and Doug Casey, who actually experienced 40 years of these cycles themselves, state that this is the worst one yet.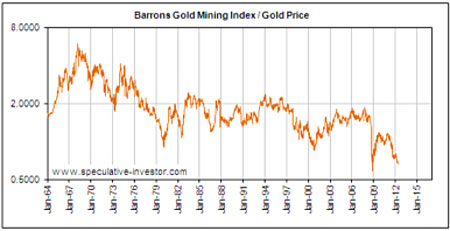 So, what is missing now is the S&P 500's well overdue correction, and even a bear market. This is the final hurdle before gold stocks make parabolic moves higher, which I believe will even shock the few investors that are actually positioned now and are suffering from temporary pains.
My Most Advanced Strategy:
What truly seasoned investors do, which is my partners' and my own strategy as well, is short the basket of juniors (GDXJ and others) on the flip side.
Gold mining stocks are trading at valuations not seen in decades. Valuations may be at levels not seen since before 1980.
In addition, the gold miners, relative to gold, have never been cheaper since at least the 1940s. Furthermore, the value of gold in the ground ticked below its 25-year low.
Gold and gold stocks are struggling now and it could continue, but they are perfectly set up for a massive move higher once the stock market peaks. Over the weeks and months ahead, I intend to accumulate shares of the best junior mining companies on weakness and short the basket (when necessary).
The massive move in precious metals during the first half of 2016 is only the warm-up of what lies ahead. We have to take advantage of the coming weakness or we risk missing the big move when it starts. Companies like this, chaired by the ultimate mining company builder, could end up cashing investors in at 1,000% gains and more.