Amicus Therapeutics, Inc. (NASDAQ:FOLD), long implicated as an acquisition target by its investors, will do some acquiring of its own.
Amicus announced early Monday that it will buy Scioderm, Inc., a privately-held biopharmaceutical company focused on rare, unmet medical needs, much like Amicus. The company will put up $125 million in cash and $104 million in stock, plus up to $361 million to Scioderm's shareholders in cash or stock if clinical and regulatory milestones are made, and $257 million upon the achievement of certain sales milestones. The cash/stock and back-end weighted structure means Amicus lays out much less of its $361 million in cash at the end of the second quarter to diversify its orphan drug portfolio, which currently includes the NDA-ready Galafold. Amicus will take on $50 million in debt alongside the transaction.
Scioderm's lead product candidate is Zorblisa, a phase 3 topical cream and potential first-to-market therapy for the rare skin disorder Epidermolysis Bullosa (EB). Patients with EB suffer from severe blistering and open wounds in response to minor friction to the skin. The disorder can be fatal before adulthood, usually as a result of infection. Scioderm's Zorblisa cream demonstrated a benefit to EB patients, compared to placebo, in a phase 2b trial in 2012, though the results were based on a subgroup of the study. A phase 3 trial in 130 EB patients is underway with results expected in the first half of 2016. Amicus pegs the Zorblisa market opportunity at greater than $1 billion based on 30,000 – 40,000 diagnosed patients in the major markets.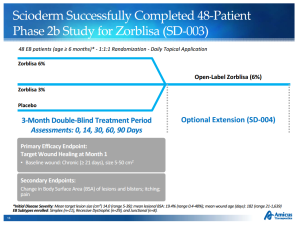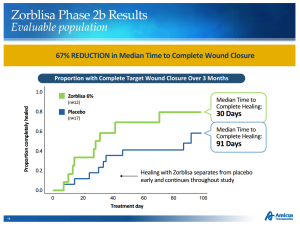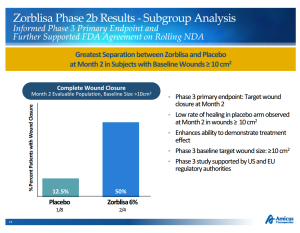 Source: Amicus Therepeutics
After accounting for the $125 million cash payment and $50 million in new debt, Amicus has an estimated $286 million in cash on hand, sufficient to take them into 2017 and through key milestones next year. Amicus will submit a New Drug Application for Galafold (migalastat), its enzyme chaperone for the treatment of Fabry disease, before the end of 2015 and will receive an opinion from EU regulators (the CHMP) about its approval in Europe. Data from the phase 3 study of Zorblisa, plus the FDA's decision regarding Galafold, make next year pivotal for Amicus.
The 7 million newly minted shares takes Amicus' share count to 125.6 million. If approved, Zorblisa is eligible for a Priority Review Voucher from the FDA. Scioderm's shareholders are eligible to the lesser of $100 million or 50% of the sale price on the potential PRV's sale price. AbbVie recently paid $350 million to UnitedTherapeutics for another PRV.
Amicus bears will point to Monday's news as evidence that Amicus isn't currently being pursued by acquirers, while bulls will cheer the expanding portfolio and favorable deal structure.
Don't be late to the party – Click Here to see what 4500 Wall Street Analysts say about your stocks.