Aduro Bio Tech Inc (NASDAQ:ADRO) begins trading on Wednesday morning at 10:25 ET having completed a $119 million IPO that values the immunotherapy company at just over $1 billion. Aduro sold 7 million shares at $17.00 in the public offering, for an outstanding share count after the deal of 58.95 million.
Aduro develops a number of cancer immunotherapies based on attenuated Listeria. LADD enlists the bacteria as a weapon against cancer by deleting two genes critical to its detrimental effect in the body. The attenuated bacteria is then modified to encode and express specific tumor antigens, which are absorbed by the patient's antigen presenting cells, a part of the immune system, in order to initiate an immune response against these particular antigens – and the cancer cells expressing them
This is the same technology used by Advaxis, Inc. (NASDAQ:ADXS), which has climbed 600% from December of last year as immunotherapy came into vogue and as word got out that Aduro would be making a splash on the public markets.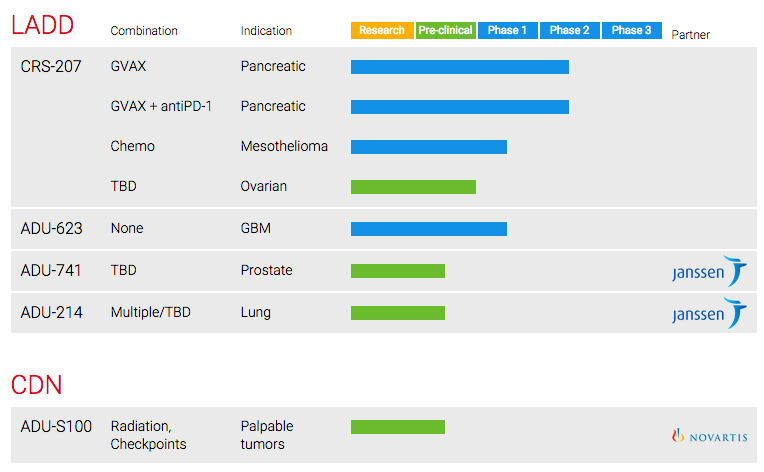 Aduro is tackling metastatic pancreatic cancer with its first LADD candidate, CRS-207, in combination with GVAX. A 300-patient phase 2b trial dubbed ECLIPSE is ongoing. A phase 1 trial of ADU-623, a LADD immunotherapy that stimulates expression of EGFRvlll and NY-ESO-1, began recruiting patients late last year. A phase 1b trial in mesothelioma has been completed.
Aduro is coming public with a staggering warchest. According to a recently filed S-1/A, the company expects to report $133 million in cash and equivalents as of March 31. Aduro will net $124 million from the IPO if the underwriter's over allotment is exercised in full (which I expect), and a concurrent private placement will net $25 million from Novartis AG (ADR)' (NYSE:NVS) Institutes for BioMedical Research (NIBR). The company received $200 million up front from Novartis in a collaboration signed earlier this month.
That puts Aduro's cash balance at about $480 million.