It seems I've been writing a lot about
Warren Buffett
lately.
Earlier in May I used one of his favorite valuation tools to determine U.S. stocks are significantly more expensive than their overseas peers, and a few weeks before that I considered a letter he wrote back in 1999 that would suggest U.S. stocks are priced to deliver pretty crummy returns going forward.
Today, rather than dwell on the Oracle's words, let's take a cold, hard look at what he is actually doing with his money.
The following chart, courtesy of GuruFocus, tracks the stock and bond holdings of Buffett's holding company, Berkshire Hathaway, going back to 1995.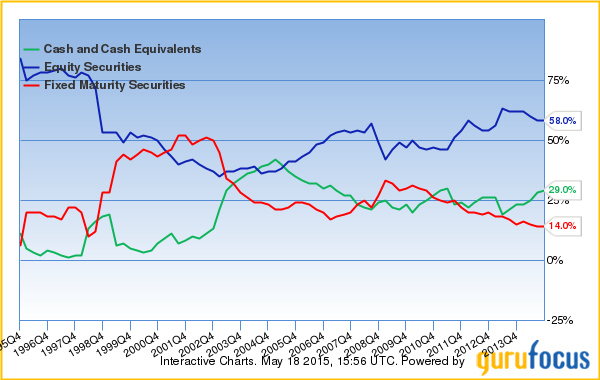 Give credit to the straight-talking Midwesterner. Buffett 's actions seem to hold true to his words. His exposure to stocks has crept upwards in recent years as the raging bull market has pulled the value of virtually all stocks higher. But it's only slightly higher than the average of the past several years, and it is far below the levels of the late 1990s.
But what I find far more interesting is Buffett's allocation to bonds (labelled "fixed maturity" here). Bond prices too have massively increased over the past several years as yields have scraped along near all-time lows. Yet Buffett's allocation to bonds (red line) has been in steady decline since the 2008 financial crisis. As recently as 2002, Buffett had half his portfolio in bonds. Today, that number is just 14%.
What conclusions can we draw from this?
Buffett is one of the best value investors to ever play the game, and it speaks volumes that he has been reducing his allocation to bonds for years now. While bond yields are likely to stay very low for another several years, I would agree with Buffett that, at current yields, the value just isn't there. Buffett began reducing his allocation to bonds at yields far higher than those we see today, even after the recent surge. At best, bonds can make for a good short-to-medium-term trade. But buying at today's yields, you can't expect much in the way of long-term returns.