U.S. Earnings Improve
With the economically-sensitive Australian dollar (FXA) and Brazil (EWZ) showing signs of strength in 2016, there is hope for an earnings recovery in late 2016/early 2017. From The Wall Street Journal:
This is the corporate landscape that will greet the next president: improving profits buoyed by rising employment and business spending—yet tempered by the elusiveness of a more resilient recovery. Earnings for the biggest U.S. companies began to rebound in the third quarter, a glimmer of growth after four straight quarters of contractions. But some executives are already expressing caution about the coming year.
S&P Spikes On FBI/Clinton News
Following the FBI's announcement Sunday regarding the Clinton email case, S&P futures gapped up 25 points, allowing the S&P 500 to flirt with recapturing the top of the Brexit box (see orange lines below). All things being equal, the short-term bullish case would improve with a close above the orange lines.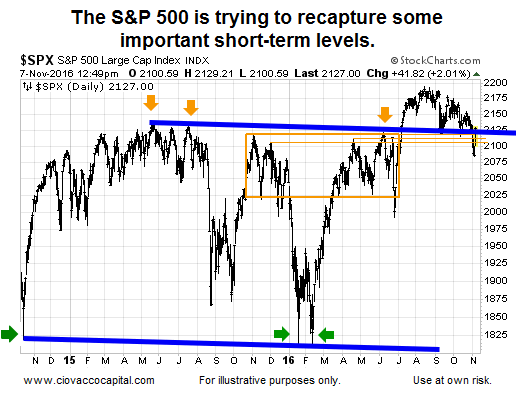 Normal Pullback or New Bear Market?
This week's video looks at the good, the bad, and the ugly heading into election day, including an update on numerous Fibonacci retracements.
After you click play, use the button in the lower-right corner of the video player to view in full-screen mode. Hit Esc to exit full-screen mode.


Some Good Signs Monday
Market breadth was very impressive during Monday's session, especially with 90% of NYSE volume being associated with advancing issues. As shown below, the broad NYSE Composite was also able to retake a level that dates back to the 2007 market peak.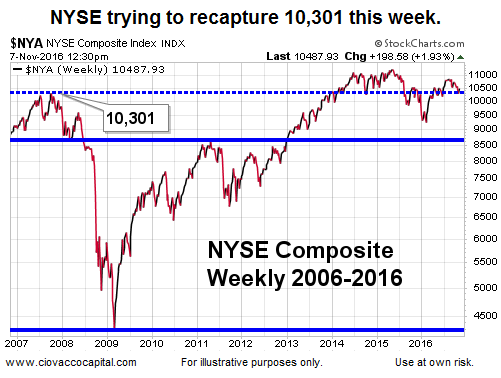 A Turning Point For European Earnings?
European financials were trying to make a stand at a logical level Monday (chart below). Similar to the United States, some data is giving hope for a long-awaited recovery in European earnings. From CNBC:
After almost six years of no earnings growth for Europe, there is hope the region's companies hit an inflection point during this year's third quarter, according to the Head of European Equity Strategy at UBS. With over half of European companies having already reported, Nick Nelson says the recovery seen in revenue growth is key to driving positive momentum in earnings.