Dollar Breaks Out
With the Fed flip-flopping on interest rates, the U.S. dollar traded inside a two-year consolidation box, which is indicative of indecisive investor behavior. The dollar was recently able to break to the upside with market participants expecting a Fed rate hike in December.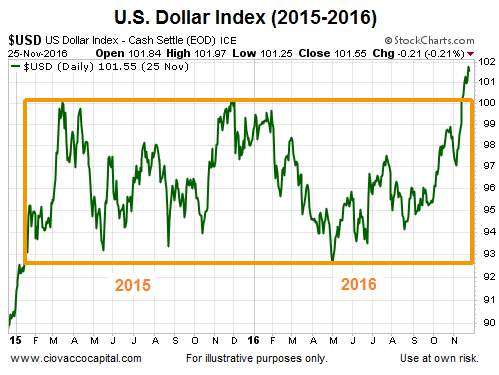 Impact On Multinationals And Consumers
There are valid concerns tied to a rising U.S. dollar. A strong dollar makes American goods more expensive overseas, which can negatively impact earnings for multinational companies. However, the flip side of that coin is U.S. consumers will pay less for imported goods, allowing them to have more disposable income.
What Can We Learn From History?
This week's video explores the question:
Is it in the realm of historical possibility for stocks to perform well in periods marked by rising interest rates and a strong U.S. dollar?
After you click play, use the button in the lower-right corner of the video player to view in full-screen mode. Hit Esc to exit full-screen mode.

Higher Rates Can Impact Capital Flow
Bonds have recently sold off on expectations for stronger growth, higher inflation, and higher interest rates. The selloff in bonds and the post-election push higher in stocks have allowed the stock/bond ratio to break out of a long-term consolidation box (see chart below). The impact of capital flows between stocks and bonds was covered by The Fat Pitch:
In July, fund managers' had their highest exposure to bonds in 3-1/2 years. In other words, they expected yields to keep falling. Instead, yields reversed higher and have since risen so sharply that several smart money managers now say that a new secular uptrend in yields is taking place. That is a big call, given that the foregoing secular downtrend has lasted more than 35 years.

Over the past 18 months, investors' money has been flowing consistently out of equity funds. Where has that money gone? Mostly to bond funds. Money usually follows performance, so it's a good guess that fund flows might soon begin to favor equities. If past is prologue, then equities should gain and bond yields should continue to rise. Whether that will constitute the start to a new secular uptrend for yields it is far too early to say.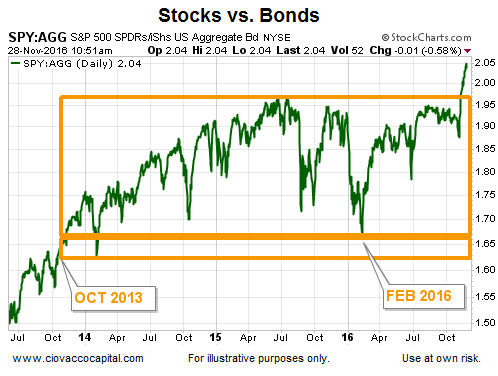 Financials Have Responded
Since bank earnings are impacted by interest rate spreads, higher interest rates tend to be positive for the financial sector. President-elect Trump's platform also calls for toning down regulations from the post-financial crisis Dodd-Frank legislation. Financial stocks have responded by breaking out from a multiple-year base relative to the S&P 500.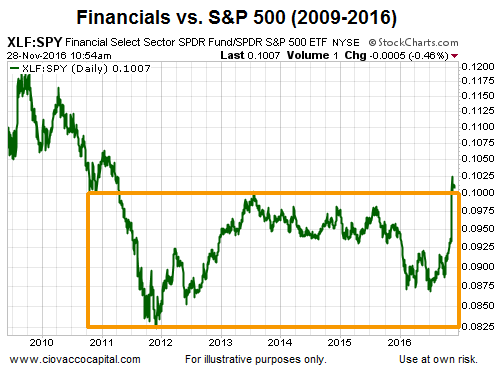 Time Will Tell
As long as the markets are moving based on the higher growth, higher inflation, and higher rates theme, economically-sensitive areas of the market, such as small caps (IWM), mid caps (MDY), metals (JJC), and consumer discretionary (XLY), will most likely continue to outperform more-defensive oriented areas, such as bonds (TLT), gold (GLD), and utilities (XLU). Stocks have come a long way in a short period. Even under longer-term bullish conditions, some "give back" is to be expected.