Easy To Get Discouraged
Earlier this week the broad NYSE Composite Stock Index was sitting roughly 7% below its 2015 highs. Therefore, it is rational to get discouraged, especially given the wild central-bank-induced swings over the past couple of years. Thus, it may be helpful look at some facts.
Is The S&P 500's Pullback Abnormal?
The chart below shows the post-Brexit rally push from point A to point B. A normal retracement would take the S&P 500 back to 2116, 2092, or 2068. After the Fed minutes, the S&P 500 was still holding above all three levels.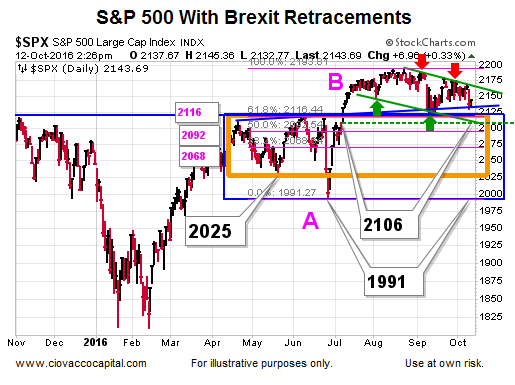 Does It Look Like A New Bear Market?
A September 2 analysis used the 50-day and 200-day moving averages to compare a bear market look to a bull market look. The present day S&P 500 chart has not yet morphed into an early bear market look. It may, but it has not yet.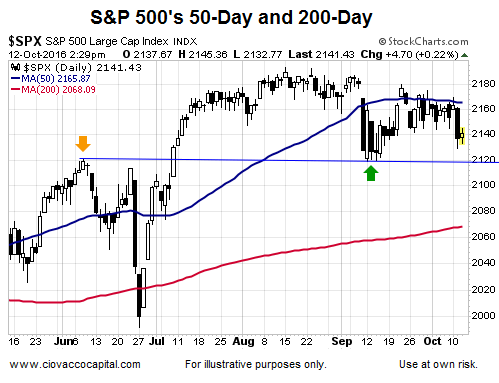 Have Key Weekly Levels Been Given Back?
The weekly chart below shows several levels that acted as resistance in 2015 and earlier in 2016. Thus far, the S&P 500 has not seen a weekly close below the levels shown.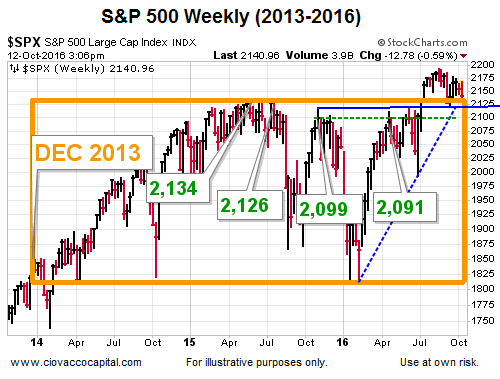 Have The Weekly Charts Flipped Bearish?
An August 2016 analysis looked at a rare turn in weekly stock market trends. After the Fed minutes on October 12, the S&P 500 was still holding onto the favorable long-term probability look.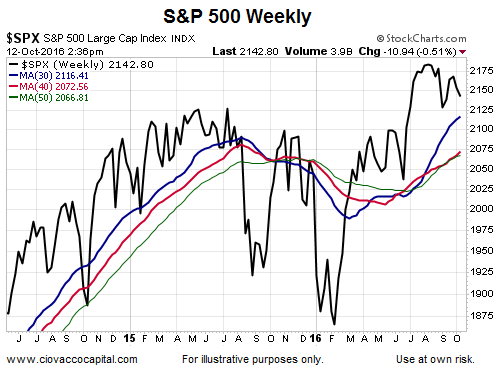 Could The Facts Flip Bearish?
The answer to the question above is absolutely, positively, yes. However, none of the charts above have flipped yet, which helps us keep an open mind about better than expected outcomes. Bearish probabilities will increase if the charts above break down or give back their recently acquired and favorable looks. Time will tell.