Fed's About Face Helped Kick Off Reflation Trade
The Federal Reserve's rapid reversal on interest rates in the first few weeks of 2016 helped launch the reflation trade. The reflation trade is also known as the weak-dollar trade; both refer to leadership from assets that tend to perform well during periods of rising inflation expectations and/or a weakening U.S. dollar. Reflation is also used to categorize the early stages of economic improvement after a period of weakness or contraction.
Another False Dawn Or Sustainable Leadership?
While there is no question weak-dollar assets have responded to the Fed over the past few months, the jury is still out on the question of sustainability. The chart below shows the performance of materials (XLB) relative to the S&P 500 (SPY). Notice how similar periods of leadership ended in disappointment (red arrows below). The reflation trade has worked its way back to a similar area (orange arrow).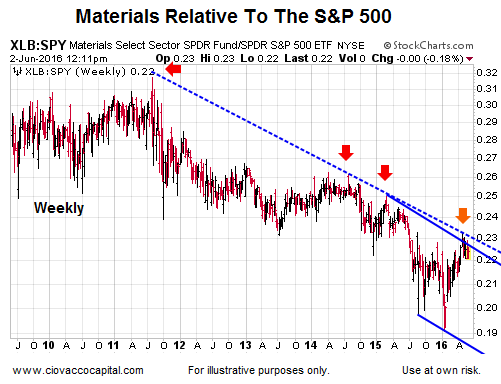 Weak-Dollar Trade And The S&P 500
With valuations stretched and earnings falling into the tepid category, markets have been focusing on theliquidity supplied by central banks. The chart below shows the same XLB vs. SPY ratio, but this time from a zoomed-in perspective. Notice how the performance of the S&P 500 has mirrored the fate of the weak-dollar trade.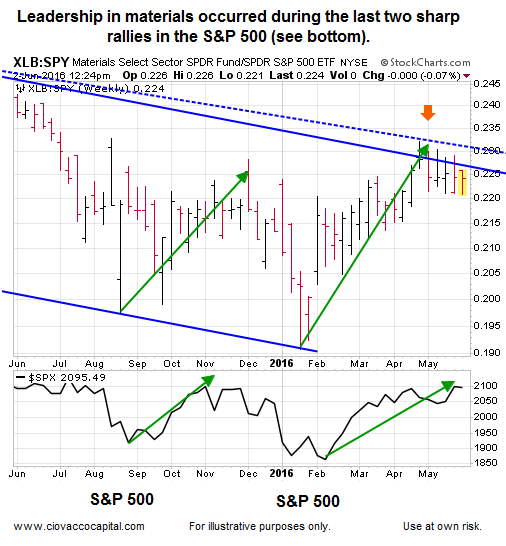 We Learn Something Either Way
Have there been reflation/weak-dollar trade head fakes in the recent past? Yes, a March 18, 2015 headline proclaimed "Avoid utilities as reflation trade picks up steam". The chart below shows the 2015 rally in materials relative to the March 18 reflation headline.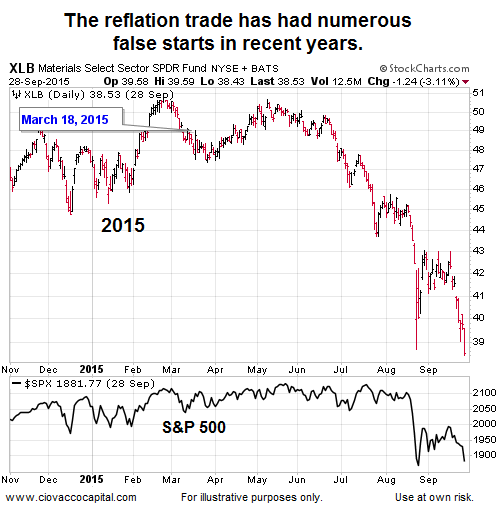 The present day look of the XLB:SPY chart aligns with the "possible inflection point" theme we have been covering in recent weeks.
Fed Statement June 15
While the financial markets remain skeptical of the Fed taking action on rates in June, guidance provided in the statement may assist markets in assessing the odds of the next hike coming in July. If the Fed helped spark the current rally in risk assets, common sense tells us they will play a role in either helping extend the rally or bringing it to an abrupt end. All things being equal, stock bulls prefer to see the XLB:SPY ratio break to the upside. Stock market bears are hoping for another false reflation dawn.
SPY, SPX, QQQ, IWM, VIXY, SQQQ