Xencor, Inc (NASDAQ:XNCR) priced an equity financing on Wednesday morning, selling 7.5 million shares of common stock at $14.25 for gross proceeds of $106 million. The underwriters have an option on an additional 1.125 million shares, which would bring gross proceeds to about $122 million.
For healthcare investors, we note two facets of this deal.
1) Xencor originally planned to sell 5.5 million shares in the secondary offering. The deal was apparently upsized, which investors will see as indicative of higher-than-expected demand.
2) Three weeks back, Xencor reported top-line results from a phase Ib/IIa study of its XmAb5871, which sent the stock higher by 20% to $19.00. Through the trading session on the day of the data, however, the stock trickled lower and has been under pressure since, trading near $15.00. The sell-off has largely been attributed to the company's cash need, and expectations for a financing.
With this secondary offering done and out of the way, investors can again focus on the fundamentals. In trading on Wednesday XNCR is up 6% from the offering price.
Xencor develops enhanced antibodies, dubbed XmAb antibodies, for the treatment of autoimmune diseases and cancers. Similar to bi-specific antibodies, these technologies represent the next-generation of antibody drug products. If nothing else, it's a technology worth understanding.
Where conventional approaches to antibody design focus on the portion of the antibody that interacts with target antigens (the variable (Fv) domain), Xencor's XmAB focuses on the portion of the antibody that interacts with segments of the immune system, the constant (Fc) domain. This portion is interchangeable among antibodies.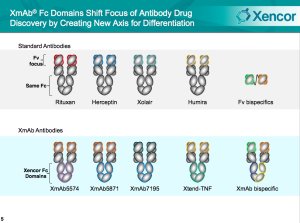 Xencor's engineered Fc domains can be substituted for natural Fc domains in order to enhance performance of the antibody. Xencor claims a few major capabilities: improving immune inhibitory activity, improving cytotoxicity, and extending the antibody's half-life (circulation systemically). The company claims to be able to maintain 99.5% identity in structure to natural antibodies.
Xencor has partnered with MorphoSys (MOR.DE), Merck (MRK), J&J (JNJ), and Alexion (ALXN), among others.
In the phase 2a portion of the trial results, released on January 29th, XmAB5871 was well-tolerated and safe in 15 patients with rheumatoid arthritis receiving the drug. Five patients (33%) who received all six bi-weekly doses of the study drug achieved DAS28-CRP, compared to zero in the placebo arm. Three ACR70 (20%) and six ACR50 responses (40%) were reported in the XmAb5871 group, versus none and one (13%), respectively, in the 8-subject placebo group.
XmAb5871 is a first-in-class monoclonal antibody containing Xencor's XmAb immune inhibitor Fc domain that targets FcγRIIb to inhibit B-cell function.
Xencor ended the year with $54.7 million in cash/equivalents and guided for a cash balance at the end of 2015 of $28 million in cash, implying cash use of about $27 million this year. The company indicated that this would last through 2016. With the latest financing, Xencor will have over $150 million, sufficient for a few years of operations.
According to TipRanks.com, which measures analysts' and bloggers' success rate based on how their calls perform, analyst PropThink has a total average return of 52.1% and a 66.0% success rate. PropThink is Ranked #9 out of 4234 Bloggers.