Facts Say Be Open To Better Than Expected Outcomes
Dating back to August 2016, our weekly videos have covered numerous long-term charts that tell us to remain open to the possibility of stocks rising for several more years, including:
Bullish Monthly Momentum (MACD) – December 2, 2016
Long-Term Breakout In Stock/Bond Ratio – December 9, 2016
Annual Signal Last Seen Before 1982 Bull Run – December 30, 2016.
Are Fed Rate Hikes A Showstopper For Stocks?
The Fed raised rates by 0.25% Wednesday and projected an acceleration in U.S. economic growth. It seems tempting to say "the Fed will kill the bull market". However, as noted by Senior Market Strategist Ryan Detrick of LPL Financial, it is in the realm of historical possibility for stocks to continue to rise for some time.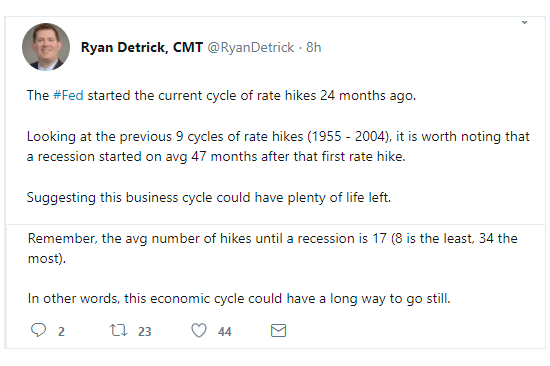 A List Of Concerns
This week's stock market video reviews present day facts to help us better understand the stock market's concerns related to:
Valuations
Geopolitical Events
Predictions Of Gloom And Doom
Threat Of U.S. Recession
After you click play, use the button in the lower-right corner of the video player to view in full-screen mode. Hit Esc to exit full-screen mode.