By Brett Eversole
The U.S. dollar's plunge has been one of the major financial stories of 2017. The dollar was soaring for five good years, from 2011 up until 2016. However, this year, it all changed.
The greenback recently hit its lowest level since early 2015, which has now clearly broken down from a multi-year uptrend. All signs from history point for this downtrend to likely continue. In fact, the dollar could continue falling for another two years. Let me explain:
Major currencies tend to move glacially. They have slow, long-term moves higher or lower- not drastic crashes or spikes. Therefore, this year's decline is not something that happens all that often. The dollar is down 9% in just the first eight months of the year- a massive fall for a major currency.
This is also a major break in the dollar's previous trend. Take a closer look: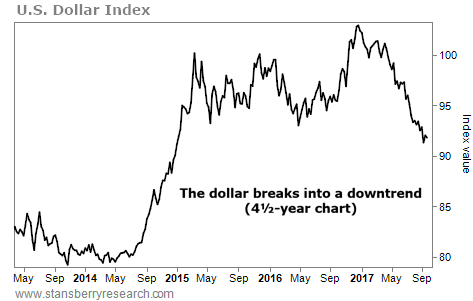 Exploring a quick fall like the one seen above could mark the hints of a much larger downtrend forthcoming.
History says that this kind of decline– 9%-plus in eight months–means a new downtrend is here. That bodes badly for the dollar over the next few months, and potentially even years.
Since 1980, similar quick dollar declines have led to further declines over the next two years. The table below shows the full details:
| | 6-Month | 1-Year | 2-Year |
| --- | --- | --- | --- |
| | | | |
| | | | |
Like many currencies, the dollar hasn't moved much over the long term. But large declines tend to lead to further falls. After 9%-plus declines like the ones we have seen recently, the dollar went on to fall 1.6% in six months, 4.7% in one year, and 7% over the next two years. That may not sound like much, but the dip indicates a huge fall for a world currency. More importantly, this signal tells us that the dollar's decline will likely continue, possibly for years to come.
Now, in the short term, the dollar is overly hated by investors. As contrarians, we know that could mean a bounce in the near future. But that would just be taking in the short-term picture alone. Today, the long-term trend is clearly down. Glancing at the recent decline we have spotted points to more losses ahead, as it is spelled out by history.
This does not necessarily translate to all bad news here, however. If we see a multi-year fall in the dollar, one way to profit would be through foreign stocks. Keep in mind, a falling dollar is a tailwind for stocks outside the U.S. Gold also typically soars when the dollar falls. Notably, the metal has already entered a solid uptrend.
In any case, the greenback's decline could just be getting started. Do not be surprised if this is the beginning of a multi-year downtrend.