Wal-Mart Stores, Inc. (NYSE:WMT) is the world's largest retailer. They are engaged in the operation of mass merchandising stores, which serve their customers primarily through the operation of three segments, which are the Wal-Mart Stores segment, the SAM'S Club segment and the International segment.
For a very long time now, much of the information about retail giant Wal-Mart was decidedly negative. Crowded stores, substandard goods, closed-down main streets across the USA, poorly-paid workers, etc. For many shoppers, the lure of low prices was easily overcome by a reticence to subject one's self to the Wal-Mart "experience."
It didn't help that a variety of viral stories on the internet discussed employees on government assistance, food drives for full-time workers, "random" scheduling that took no account of employee needs or family life, wealthy family heirs and heiresses on the Forbes list of the wealthiest prone to making gaffes, employees locked inside for night shifts, and other topics more reminiscent of the Gilded Age than one of the largest employers in the 21st Century United States.
Faced with increasing labor issues like high turnover, union agitation, and various protests, the company responded in April with the news that they would immediately take steps to raise the wages of employees to a level that exceeded the US Federal minimum.
Of course, as we noted at the time of that increase, one wonders whether this was a benevolent move on the part of workers, or more of a PR effort designed to undercut unions and perhaps stave off additional governmental regulation. it may have also had more to do with an improving economy and tightening labor market than good will as well. Shortly after Wal-Mart made its announcement, competitors like Target, TJ Maxx, and Marshalls announced similar pay increases for their workers.
However, while it may have served a variety of purposes at the time, we are beginning to see signs that it may also have some beneficial effects for the firm itself beyond good PR. Company CEO Doug McMillon told shareholders at a briefing last Friday that managers have begun to report measurable decreases in turnover and a concurrent increase in job applications.
At the same briefing, McMillan announced additional increases to the minimum wage for @100,000 US employees working in store delis and those that manage departments. He also went on to say that the company is considering further increases in minimum pay beyond the already promised increase to $10/hour. "This won't be the last jump,"McMillon noted. "There will be other moves above that as we manage the overall portfolio."
There were also other changes announced which are designed to improve conditions for employees– such as relaxed dress codes, more comfortable store HVAC settings, etc.
Company management may be in the process of relearning the lesson that happy employees are better, more-productive employees and that good employees can play a role in boosting the bottom line. Or, they may merely be dealing with labor pressures due to a better economy–which may also hurt as shoppers with more revenue decide to head for the "greener pastures" of Target or competitors offering a nicer experience.
Workers seem to be winning so far with this change in attitude, but it t will take some time to see if these changes also bolster the bottom line. The stock hit a 52-week low this week and has decreased @20% this year. Sales have been flat year-over-year, and Q1 earnings were down @6% yoy as well. Our models remain non-plussed and have ranked the stock a "3-Engine"–HOLD– since September 10, 2014. The stock has declined @4% since the downgrade.
Read our Complete Detailed Valuation Report on Wal-Mart HERE.
Below is today's data on WMT:
VALUENGINE RECOMMENDATION:ValuEngine continues its HOLD recommendation on WAL-MART STORES for 2015-06-10. Based on the information we have gathered and our resulting research, we feel that WAL-MART STORES has the probability to ROUGHLY MATCH average market performance for the next year. The company exhibits ATTRACTIVE Company Size but UNATTRACTIVE Earnings Growth Rate.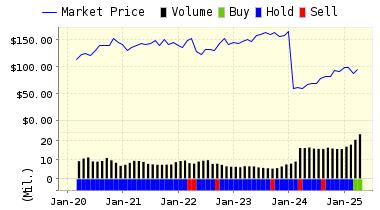 ValuEngine Forecast

Target
Price*

Expected
Return

1-Month

73.17
0.33%

3-Month

73.82
1.22%

6-Month

74.45
2.08%

1-Year

75.82
3.96%

2-Year

70.23
-3.70%

3-Year

76.14
4.40%
Valuation & Rankings

Valuation

0.84% overvalued

65

1-M Forecast Return

0.33%

1-M Forecast Return Rank

75

12-M Return

-5.00%

43

Sharpe Ratio

0.51

75

5-Y Avg Annual Return

7.69%

5-Y Avg Annual Rtn Rank

61

Volatility

15.17%

89

Expected EPS Growth

-2.01%

23

Market Cap (billions)

235.07

Size Rank

100

Trailing P/E Ratio

14.66

79

Forward P/E Ratio

14.97

Forward P/E Ratio Rank

62

PEG Ratio

n/a

PEG Ratio Rank

n/a

Price/Sales

0.48

84

Market/Book

3.76

34

Beta

0.43

Beta Rank

75

Alpha

-0.07

Alpha Rank

50