Sex, one of the most gratifying acts known to humans, can be lethal. A danger exists to thwart this – hepatitis B virus (HBV). ContraVir Pharmaceuticals Inc (NASDAQ:CTRV) may have found a way to cure HBV, saving the world from a deadly disease while restoring the right to replicate life.
ContraVir recently stunned with evidence of its Phase II trial of HBV drug CMX157 against blockbuster Viread by Gilead Sciences, originally an HIV remedy but approved for HBV; however liver and kidney damage result. CMX157 shows to be more potent at lower doses minus Viread's toxicity. Both drugs are nucleoside analogues, or NUCs, (biological antiviral agents used in HIV, HBV and herpes by interrupting DNA) but CMX157 works better without Viread's side effects.
An unprecedented 99% drop in the virus was seen using CMX157. In only two weeks, treated patients needed just a fraction of ContraVir's drug instead of an otherwise large amount of Viread to defeat viral activity (25 mg of CMX157 versus 300 mg of Viread). This figures largely into why CMX157 will prove to be a superior HBV cure.
Last June, I wrote about ContraVir and its work in HBV, highlighting how its revolutionary compounds could move fast to an HBV cure. Since then, the company has done exemplary work in a new drug to take its pioneering effort to another level – a creation of its own, CRV431, designed to block liver damage. When used with ContrVir's NUCs top-line therapy in HBV viral repression, both drugs could stop HBV and halt bodily injury.
In a study released last month, ContraVir reports work showing CMX157 and CRV431, combined, knock out HBV at its DNA source. Scientists reviewed statistics and deemed them valid. CMX157 alone stands at Phase II clinical trials with good results, and with CRV431, clinical value looks to be unrivaled. More importantly, the two drugs together have the ability to crush HBV at important stages of its life cycle (see box below).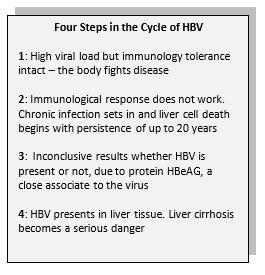 In my conversation with Dr. John Sullivan-Bolyai, ContraVir's Chief Medical Officer, he explained CMX157 "interferes with the first step of HBV", and studies reveal CRV431 furthers this process – preventing the virus from progressing.
Dr. Sullivan-Bolyai also said "more steps (in HBV) blocked, the bigger chance of success". Viread does indeed block one step, but CMX157 does better. It's in liver where ContraVir's drugs will have greatest efficacy since HBV conveys to this delicate organ its most damage. Next block: CRV431, under a different mechanism. This is combination therapy at its finest medical hour.
There are two HBV-associated proteins involved in progression of this deadly disease: HBeAg and HBsAg. Both appear on the surface of the virus where antibodies can't reach. Human immune response is activated to help rid the body of this affliction, but doesn't always work. Researchers remain confusedabout how to help.
Only ContraVir can inhibit these proteins, accomplishing a cure. Competitor Arbutus Biopharma tried to reduce Hobart and HBsAg in blood, but could rid only one. ContraVir's potential cure is clearly better.
Research, although early, shows CRV431 given orally reduces liver damage and permits ContraVir to petition FDA for a drug application for approval of further studies – in humans, a monumental step. This will commence next year.
To CMX157's benefit, and this is crucial, the drug does not 'become' Viread inside the body, meaning CMX157 will not exhibit toxicity in liver or kidneys. A lower dose of ContraVir's drug works just as well as Viread, without bad side effects.
CMX157 is planned in 60 more patients under the same trial design as before, head-to-head against Viread. Management is confident of good safety results, and efficacy. CMX157, now combined with CRV431, are the only compounds set to cure HBV. Viread is a defeated drug; despite continued high sales, poisonous effects will eventually bring its downfall.
ContraVir is a pre-revenue firm. As of fiscal year-end 2016 (ended June 30), operating expenses stood at $20.8 million versus $13.9 million in the prior period, due, not surprising, to investment in research and development. Liquid assets were $7.4 million. There is no long-term debt.
As a new entrant into HBV and a micro-cap company, risks can be high. ContraVir's approach with two pipeline drugs must prove to work either alone or synergistically. CVR431 looks to be a strong contender in helping CMX157 to eradicate HBV although the former is preclinical. Whether both can be effective remains uncertain, although safety data is in place and early efficacy sound. ContraVir will soon need cash, causing potential dilution to existing shareholders.
Nearly 400 million people worldwide suffer from HBV. Something must be done. ContraVir forefronts this effort with drugs that can effect a cure, giving those suffering this disease hope for a better way of life. NUCs, a new way to rid HBV, represent ContraVir's devoted stand in drug development and will, I believe, triumph.