Boeing Co (NYSE:BA) is one of the world's major aerospace firms. The company operates in three principal segments: commercial airplanes; military aircraft and missiles; and space and communications.
We saw last week that the airline industry is having some issues with growth this year and that while shareholders have been happy with various profit-raising measures, squeezing customers for every last dime may not be the wave of the future when it comes to earnings growth.
Many airlines are using older aircraft which are beginning to be more trouble than they are worth do to poor fuel mileage, high maintenance costs, and outdated cabins. One possible path to greater profits is newer equipment that is more fuel efficient, carries more customers, and allows for the sale of even more profit-boosting amenities to a captive audience.
It seems that this upgrade process is ongoing and may even be accelerating with the news today that Boeing has landed a mega deal for 100 brand new, state-of-the-art 737 Max aircraft at the Paris Air Show. The Wall Street Journal reports that Boeing, working with Aercap Holdings NV (AER), has signed a $10.7 billion dollar deal for the new planes. Aercap is the world's largest independent lessor of aircraft.
Aercap Holdings is an integrated global aviation company with a leading market position in aircraft and engine leasing, trading and parts sales.They also provides aircraft management services and performs aircraft and engine maintenance, repair and overhaul services and aircraft disassemblies through its certified repair stations.
Aercap is rated more highly by our models than BA, we continue our STRONG BUY recommendation on AERCAP HLDGS NV for 2015-06-15. Based on the information we have gathered and our resulting research, we feel that AERCAP HLDGS NV has the probability to OUTPERFORM average market performance for the next year. The company exhibits ATTRACTIVE P/E Ratio and Company Size.
The newly announced Aercap deal is in addition to 737 orders already announced for SMBC Aviation, Indonesia's Sriwijaya Air, and China's Rulli Airlines and Minshing Financial. The only bad news for Boeing seems to be word that Russian Carrier Aeroflot canceled an order for Boeing's 787.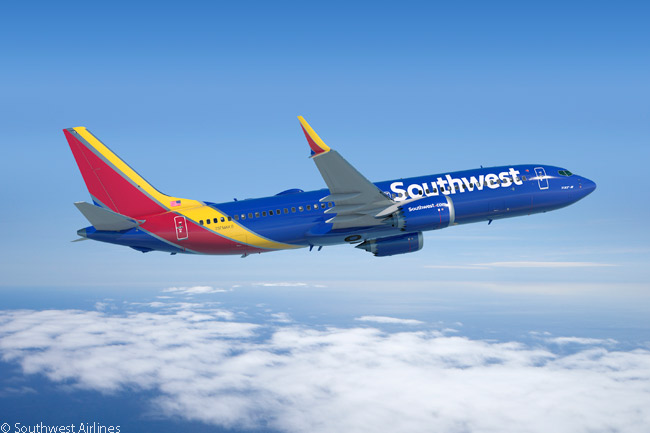 Boeing 737 Max in Southwest Livery
So far, the Paris Air Show has thus resulted in more than 400 planes being sold from Boeing and European rival Airbus. The WSJ notes that " the new business Boeing and rival Airbus Group SE have racked up underscores the undiminished appetite for new aircraft from airlines and lessors, driven in part by robust world-wide growth in demand for air travel and low interest rates."
Boeing also issued a forecast for more than 38,000 new jets over the next 20 years and expects that many of those will be for single-aisle jets like the 737. That's a lot of business for Boeing and Aerbus to fight over in the not-so-distant future.
It appears that while airlines may have hit a temporary rough patch, increased competition means a move to new equipment and this will be good news for Boeing moving forward. Of course, it will take a while for analysts to adjust earnings estimates and to run the numbers on these latest sales announcements. We currently have a HOLD on Boeing, but that may change as we have seen some fluctuation in Boeing's rating, with the latest change in status coming on May 18th–downgrade to HOLD.
Below is today's more extensive data on BA:
VALUENGINE RECOMMENDATION: ValuEngine continues its HOLD recommendation on BOEING CO for 2015-06-15. Based on the information we have gathered and our resulting research, we feel that BOEING CO has the probability to ROUGHLY MATCH average market performance for the next year. The company exhibits ATTRACTIVE Company Size but UNATTRACTIVE Book Market Ratio.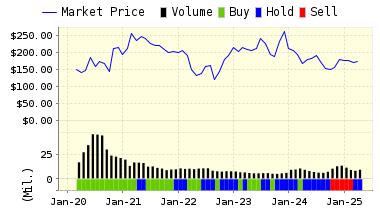 ValuEngine Forecast

Target
Price*

Expected
Return

1-Month

142.82
0.37%

3-Month

143.15
0.60%

6-Month

144.43
1.50%

1-Year

148.65
4.47%

2-Year

141.30
-0.70%

3-Year

133.61
-6.10%
Valuation & Rankings

Valuation

0.59% overvalued

62

1-M Forecast Return

0.37%

1-M Forecast Return Rank

78

12-M Return

5.21%

61

Sharpe Ratio

0.79

87

5-Y Avg Annual Return

15.67%

5-Y Avg Annual Rtn Rank

80

Volatility

19.77%

79

Expected EPS Growth

4.81%

34

Market Cap (billions)

101.44

Size Rank

100

Trailing P/E Ratio

16.55

72

Forward P/E Ratio

15.79

Forward P/E Ratio Rank

56

PEG Ratio

3.44

PEG Ratio Rank

12

Price/Sales

1.10

66

Market/Book

874.51

1

Beta

0.98

Beta Rank

50

Alpha

-0.05

Alpha Rank

54
Click Here to see the performance of analysts who rate Boeing.