Summary
A lot of uncertainty has now been taken out of the market.
We are now in a rising interest rate environment.
Some sectors will flourish in this environment, while others will suffer.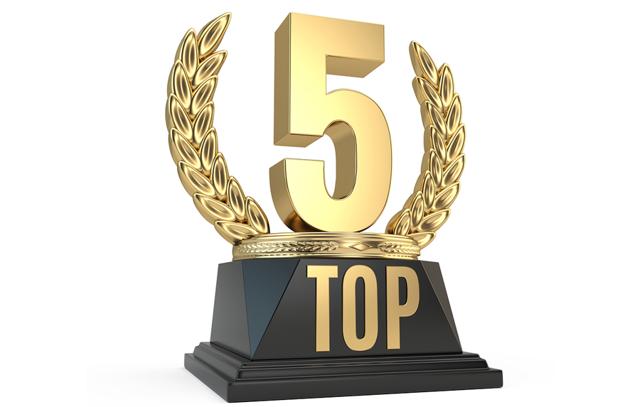 The 2016 trading year is now behind us. If I were to choose one word that best described it, it would be "turbulent." It came in as a lion and went out as a lamb.
In-between there was a 15% sell-off to start the year, followed by another rescue of Greece, a stunning Brexit vote, a shocking win by Donald Trump, rising interest rates, a huge sell-off in the bond market, and a fed rate hike.
In retrospect, this was a year that one should have just stayed put in the Russell 2000 all year. Who would have ever guessed that after the way that the year began? The S&P 500 opened the year with a very scary six week drop of just over 14%.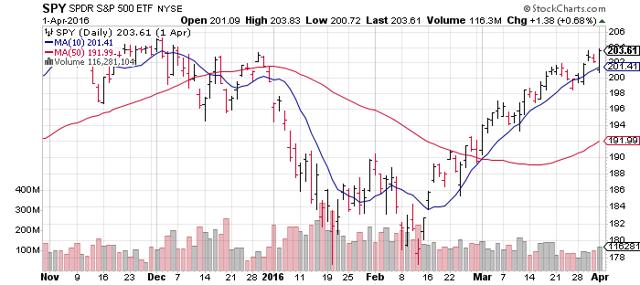 What happened to the old saying "as January goes, so goes the market?"
It now appears that the Russell is going to end the year with an almost 25% gain. But, the Russell 2000 small-cap index plunged by almost 22% from its late December 2015 peak to its mid-February low. At that point it appeared that we were going to have a terrible year in the market.
I took some defensive action to protect my clients, as it looked like the almost seven year old bull market was coming to an end.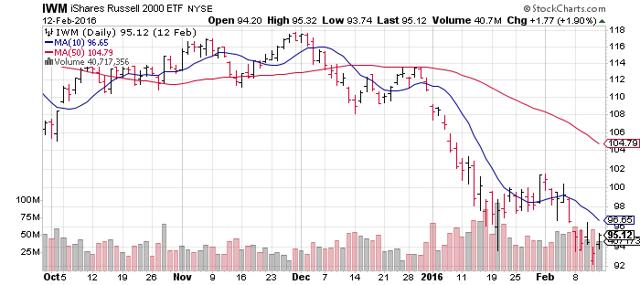 The Fed had embarked on a hawkish course, and oil prices were plunging. Earnings expectations for the S&P 500 were also falling fast, but never fell into bearish territory.
Nobody could have guessed what happened next: The Fed turned on dime and went dovish, while oil prices began to come storming back. It happened so quickly that many money managers like me got caught flat-footed and had to get back in as quickly as we got out.
This cost a lot of active managers like myself some performance this year, but most of us take protection of client assets very seriously. The market could have easily plunged into a bear market at that point had the Fed and oil prices not turned around suddenly.
The market then went on a course of very short-lived trends. None of them really ever stuck around for very long. The best one that I was able to ride was the"FANG" trade. Facebook Inc (NASDAQ:FB), Amazon.com, Inc. (NASDAQ:AMZN), Netflix, Inc. (NASDAQ:NFLX), and Alphabet Inc (NASDAQ:GOOGL) were about all that was working in the market for several months.
I was able to book a 105% profit in Amazon before I sold the stock a week before the election. I did not like the way that it was trading, I am glad that I sold. The stock has been selling off ever since. The current chart of both Amazon and Facebook look downright ugly, as new leaders have now emerged in the market.
The market also got very nervous in the weeks leading up to the very contentious presidential election.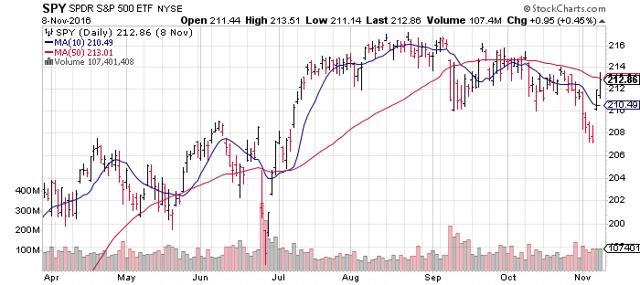 I also took a little defensive action in the last few weeks leading up to the election, just in case we ended up with a Bush V. Gore situation.
What happened next was probably the biggest shock for the market all year. Donald Trump won and the market took off! Luckily I got positioned real fast and was able to ride most of the post-election boom in the financial, banking, and insurance sectors. I also did not have any exposure to the interest rate sensitive bond market which got clobbered.
Well, now 2016 is in the rear view mirror, and it would seem that 2017 will begin with a little clearer picture than 2017 began with.
We are no longer wondering what the Fed will do. They are now on a hawkish course that should produce three to four rate hikes in the coming year. This does not bode well for the bond market or most interest rate sensitive investments.
I warned investors in early July, and again in late July, to flee interest rate sensitive investments. I almost caught the top in them. I still do not like them at all. Interest rates have now aggressively turned around to the upside after hitting a low in early July.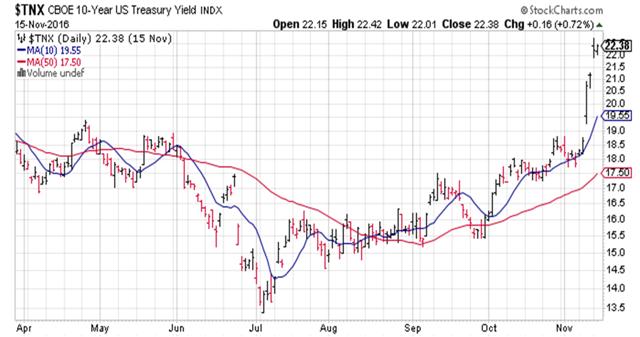 Barring some kind of surprising global event, I believe that interest rates will continue to edge their way higher towards "normalization." We still have a lot further to reach that point.
The Fed has created a massive bubble in the bond market with their prolonged zero interest rate policy.
The bond market has had the wind at its back for almost the last three decades. It has produced huge, outsized gains in recent years. It reminds me of the huge, outsized gains in the S&P 500 in the late nineties. We all know how that ended.
The longer the duration, the worse that the bonds currently look. The ETF (NYSEARCA:TLT) is now coming unraveled. It tracks U.S. Treasuries with durations of 20 years or longer.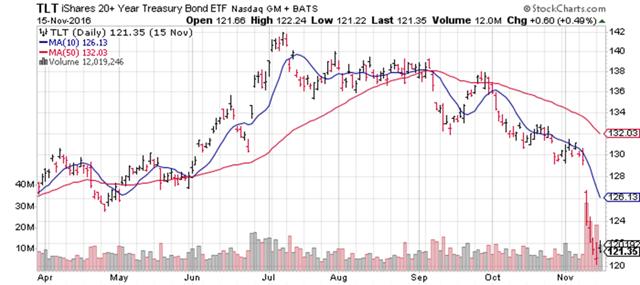 I can still remember what market pundits were saying as the S&P and especially the Nasdaq started to unwind in early 2000.
Stay the course…
I am sure that most of the bond bulls and asset allocators are advising their clients to do the same with the bond market right now.
No thanks!
The chart of the ETF above is one of the ugliest charts in the entire market.
We are also not wondering anymore who the next president will be. Whether you like the president-elect or not, the market definitely has some clear direction now. President-elect Trump has already given a lot of sectors in the market a lift, while others are sagging badly.
With many of last year's uncertainties now taken out of the market, I am going to select my top five picks with the following themes in mind:
1-We are now in a rising interest rate environment. This benefits many asset classes and sectors while others will suffer mightily.
2-Monetary policy has ran its course. It got us all of a paltry 2.5% GDP growth for the last several years. The economy is now running on fumes, as the Fed punch bowl has not only been drained, but now the Fed is applying the tightening pressure.
3-It is now time for a good dose of stimulative fiscal policy. Without it, where else will the growth in the economy come from? Tax cuts, stimulus packages, and a looser regulatory environment will put the wind at the back of many sectors, while others will now have the wind in their face.
4-Boring value stocks will hold sway over sexy growth stocks in 2017. You are already seeing this take place in the sagging "FANG" trade and in the emergence of bank, financial, insurance, and industrial stocks.
5-Small companies should benefit most from the coming changes in fiscal policy. I believe that for the most part, micro, small, and mid-cap stocks will perform better than large cap stocks this year. They will not be hurt as much by a strengthening dollar.
With these themes in mind, I am now going to select one stock, mutual fund, or ETF, from each of the five portfolios that I manage: Conservative Growth, Aggressive Growth, Growth & Income, Speculative, and Best Funds Now.
Let's begin with my Conservative Growth Portfolio.
#1-American International Group Inc (NYSE:AIG) is a stock that fits nicely with most of the themes that I have previously outlined. It has recently broken out of an eighteen month consolidation.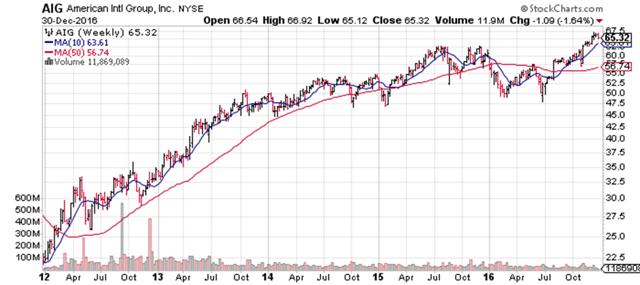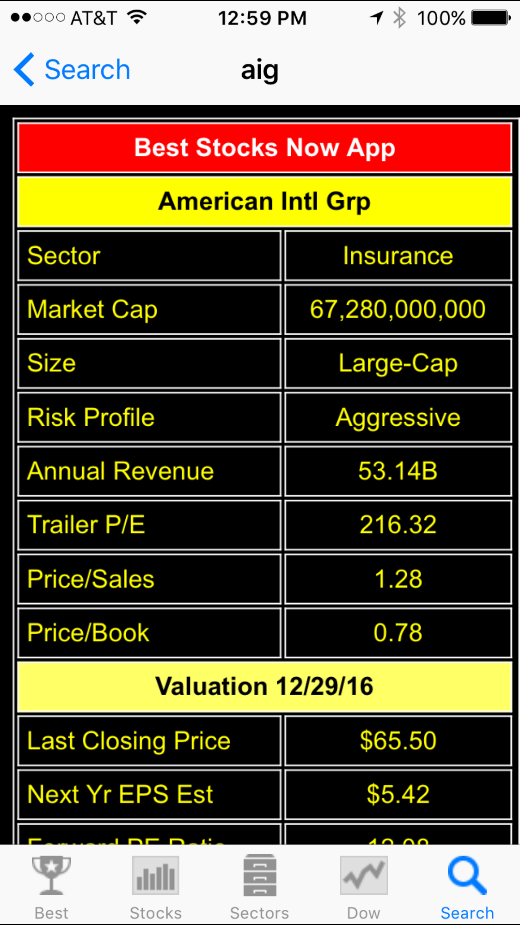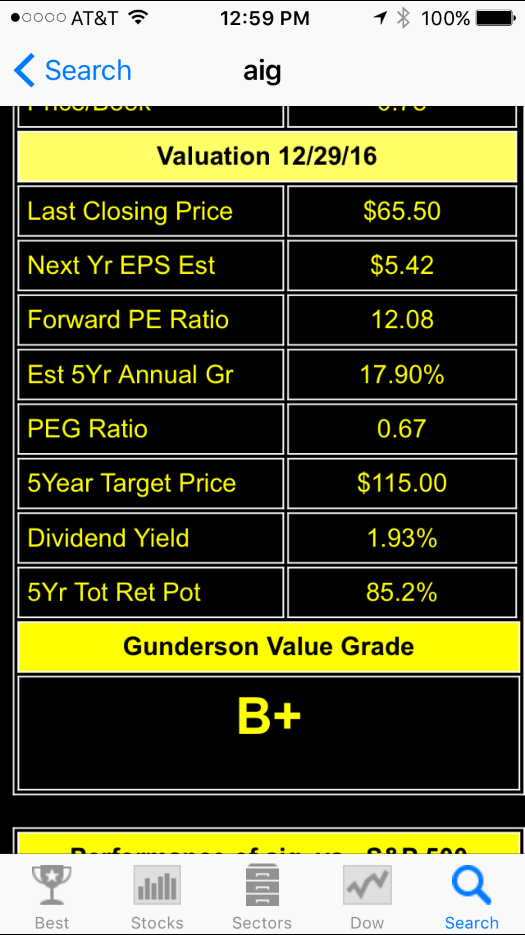 Data from BestStockNowApp.com Data from BestStockNowApp.com
American International Group is now a $67 billion market-cap company once again after barely surviving the mortgage crisis of 2008. The stock lost a heart-stopping 97% of its value that year!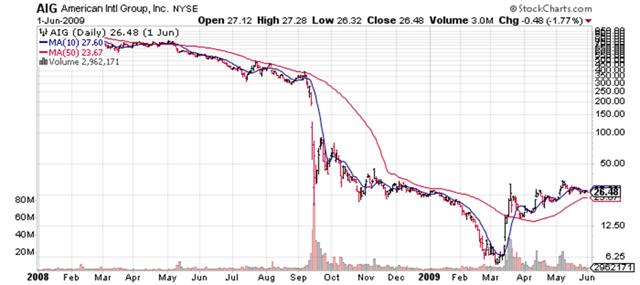 It also currently has a favorable PEG ratio of just 0.67. It is also trading at a discount to its growth rate.
The stock also sports a dividend yield of just under 2%.
The company has gone from a low of about $5.00 per share to its current read of just over $65 per share since then. But, as you can see from the valuation screen-shot above, I still have a five-year target price of $115 per share.
The performance (alpha) of the stock has also been good over the last 3-5 years. Over the last five years, the stock has delivered a total average return of 24.2% per year, while the market has delivered about one-half of that. AIG should flourish in a rising interest rate environment. It will also be aided mightily by a kinder regulatory environment at some point in time.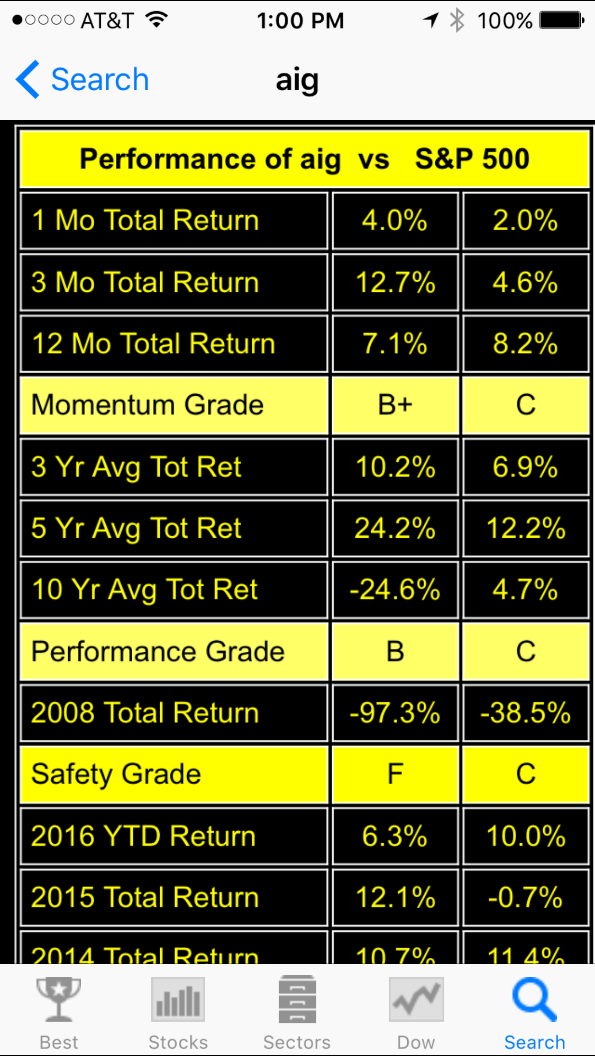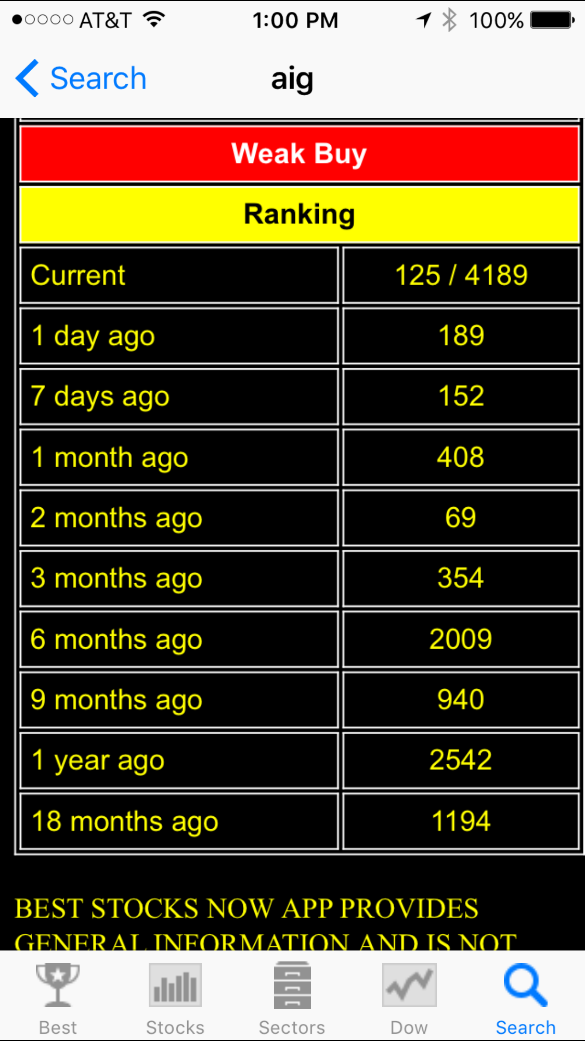 Data from BestStockNowApp.com Data from BestStockNowApp.com
The stock currently has a momentum grade of B+ and based on value and momentum, it is ranked number #125 out of the 4,189 stocks, mutual funds, and ETFs in my Best Stocks Now Database.
Although it is not a small-cap, I currently own the stock in my Conservative Growth Portfolio that leans towards large-cap stocks.
Now for the top pick in my Aggressive Growth Portfolio. This portfolio leans towards small and mid-cap stocks. I am very optimistic about this portfolio in 2017.
#2-HD Supply Holdings Inc (NASDAQ:HDS) is an Atlanta based distributor of products for the maintenance and repair; infrastructure and power, and specialty construction markets.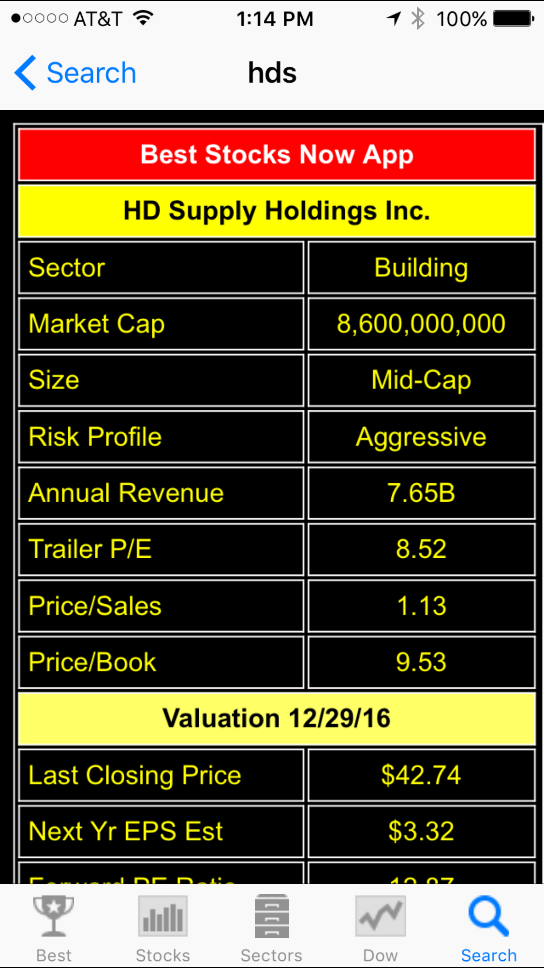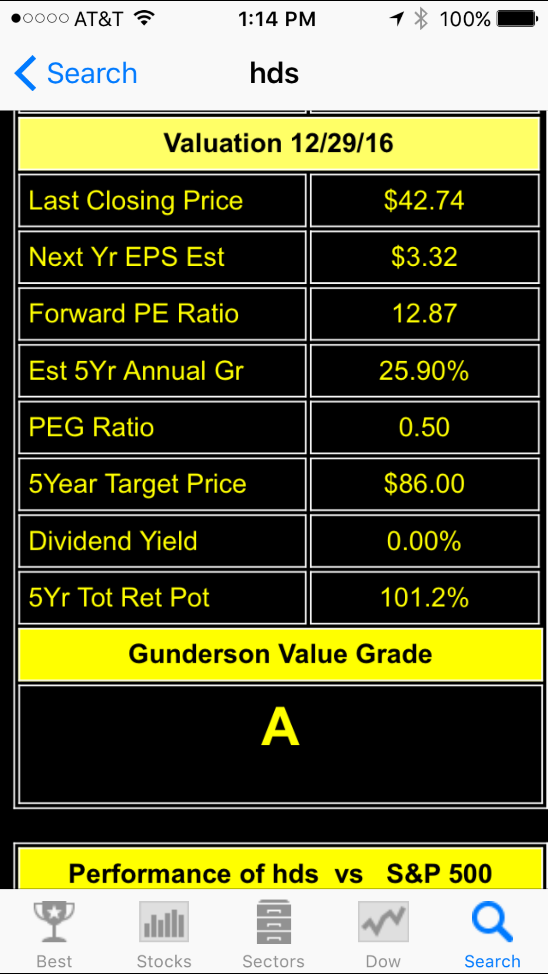 Data from BestStockNowApp.com Data from BestStockNowApp.com
It has a market-cap of $8.6 billion. It too is trading at a steep discount to its anticipated growth rate. The PEG ratio is currently just 0.50 and I have a five-year target price of $86 per share. The stock went public in mid-2013 and has done well since then. The stock has recently broken out to the upside.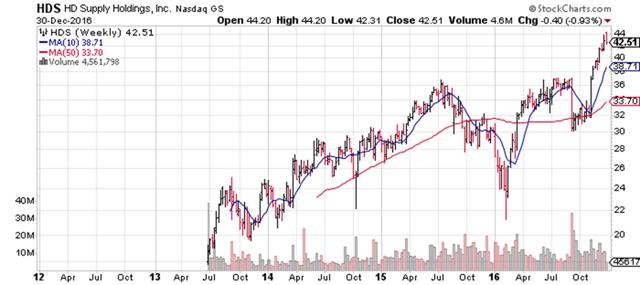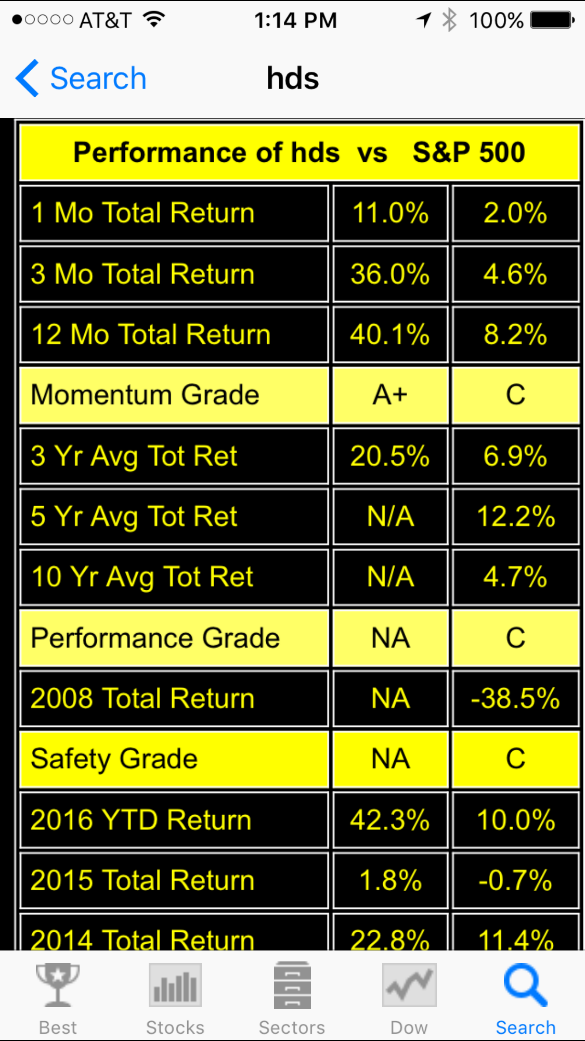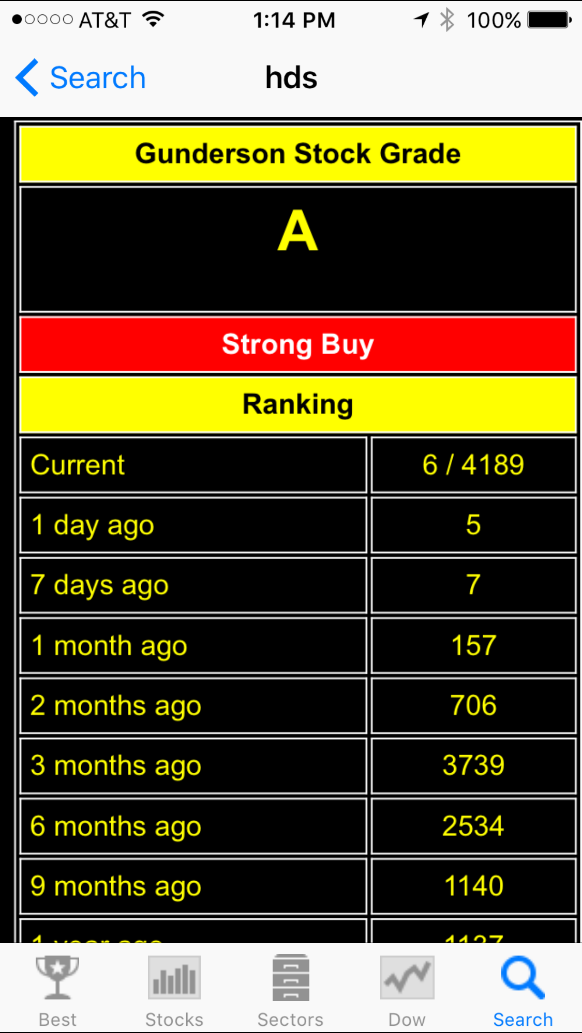 Data from BestStockNowApp.com Data from BestStockNowApp.com
The stock has nearly tripled the returns of the market over the last three years and it is up a whopping 40% over the last twelve months. It is also in a sector (Building) that has done well since election-day. I currently own it in my aggressive growth portfolio, along with 25 other positions.
It is currently ranked #6 overall in my database. That ranking is based on valuation, performance and technical pattern.
In my Growth and Income Portfolio, I am going to go with a closed-end fund as my top pick.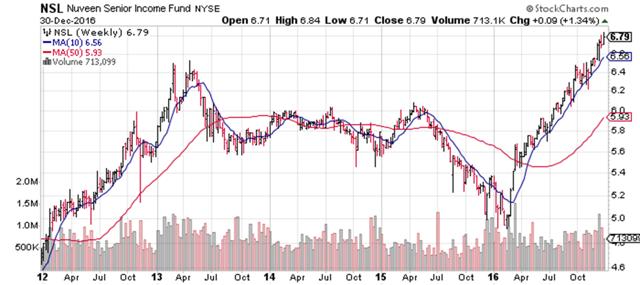 #3-Nuveen Senior Income Fund (NYSE:NSL)-Floating rate income funds do very well in a rising interest rate environment. I currently own several in my Growth and Income portfolio. That portfolio of 22 positions currently has an average dividend yield of 6.9%. I publish the positions in my newsletter weekly.
I this portfolio positioned this year to take advantage of a rising interest rate environment and avoiding interest rates sensitive positions.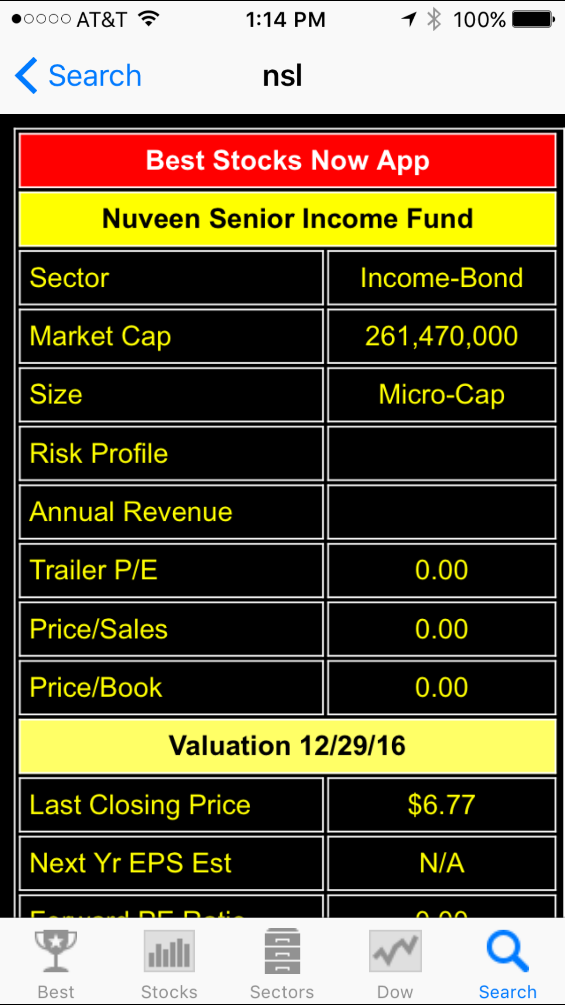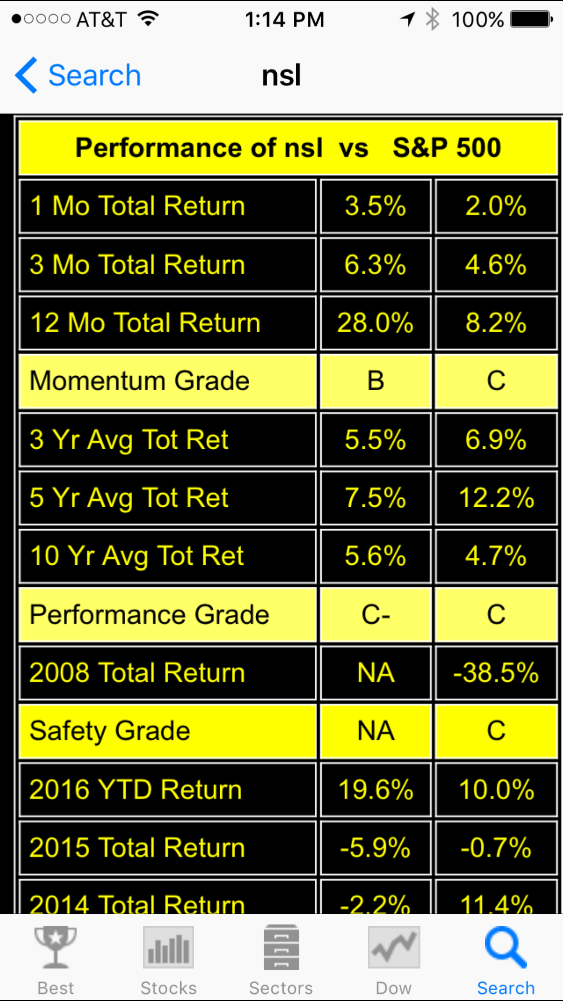 Data from BestStockNowApp.com Data from BestStockNowApp.com
Nuveen Senior Income Fund invests primarily in adjustable rate, U.S. dollar denominated secured senior loans. Again, they do well in a rising interest rate environment.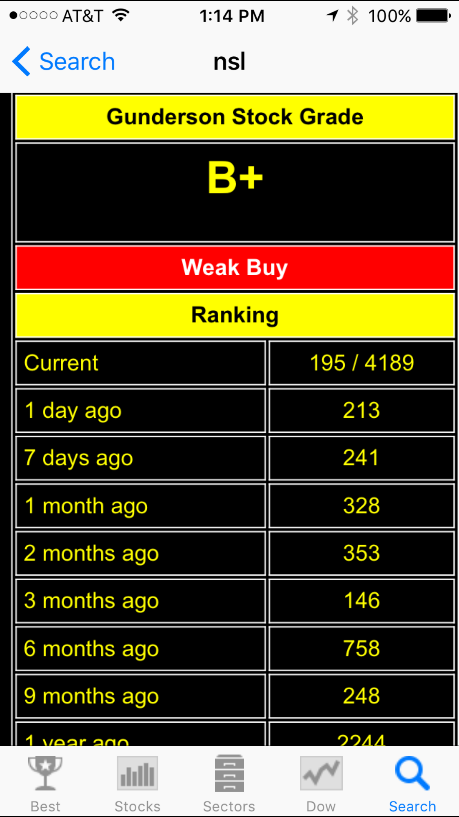 In my fun, Speculative Portfolio, I am going with a company that supplies frac sand to the oil service companies.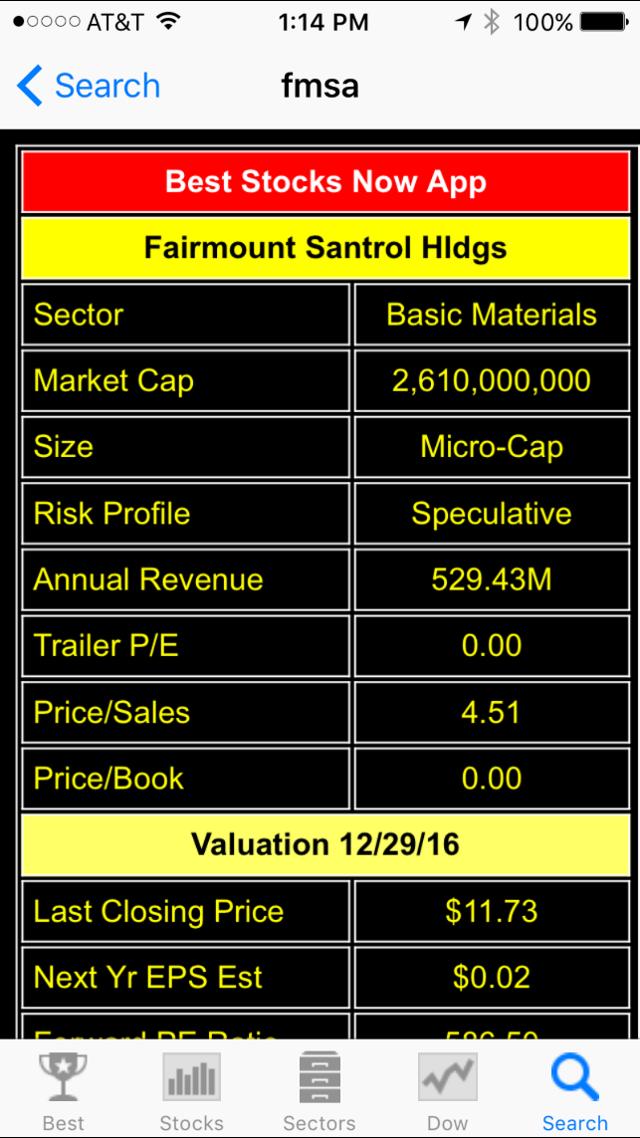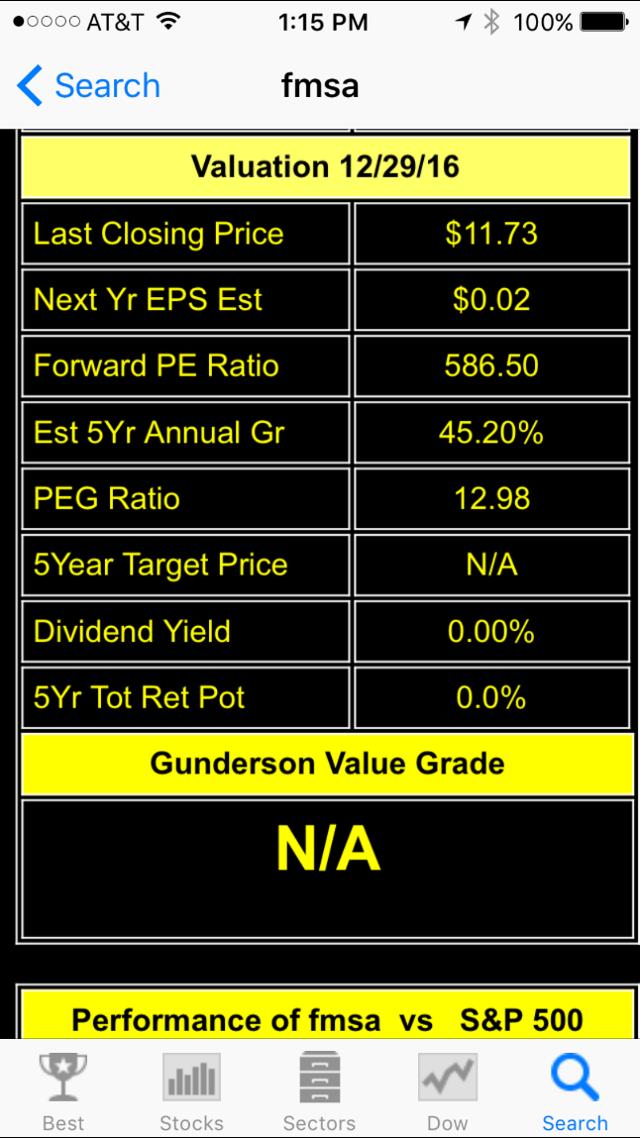 #4-Fairmount Santrol Holdings Inc (NYSE:FMSA)-is a small-cap that has had a rough time since going public in 2014. Now that oil prices are rebounding and a new pro-energy administration is getting ready to take over, I like the prospects of it going forward. The stock has a solid chart that is breaking out right now.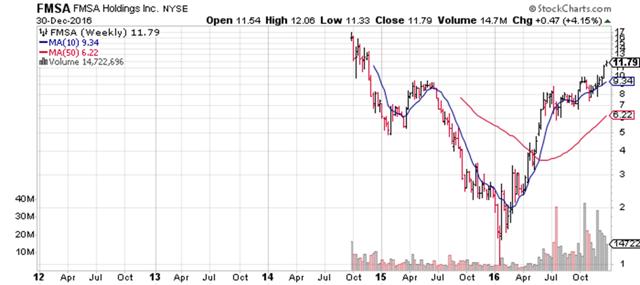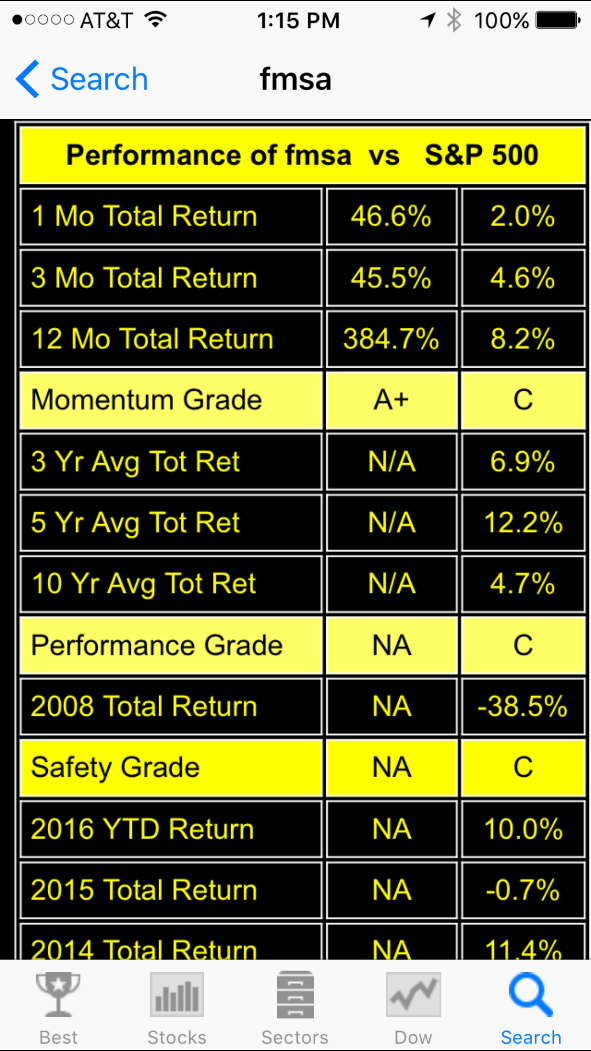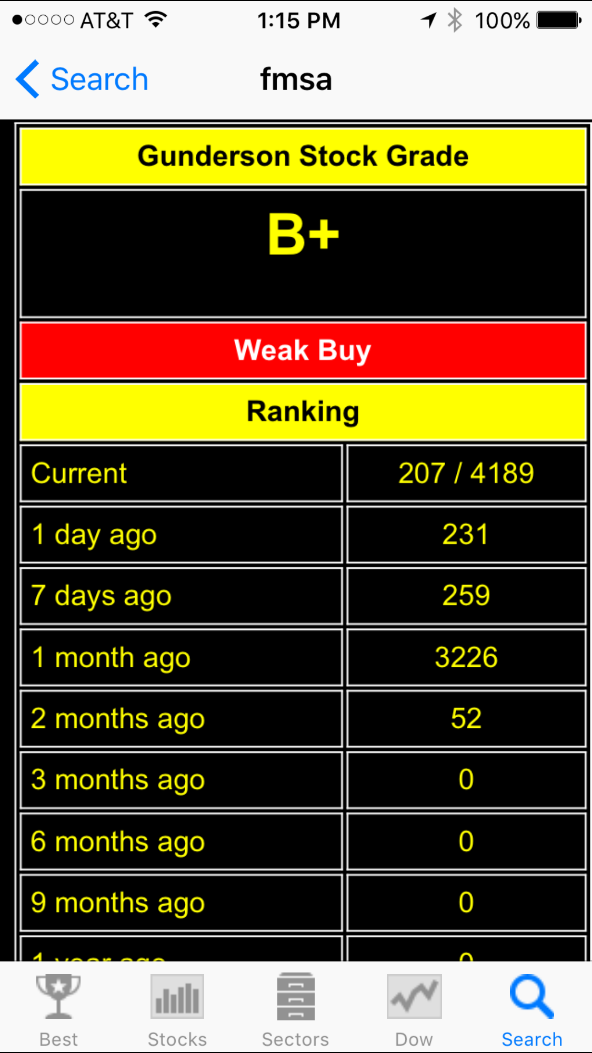 Data from BestStockNowApp.com Data from BestStockNowApp.com
The stock is very difficult to value, but it has a ton of momentum right now. Believe it or not, the stock is up 384% in the last twelve months. This is my most aggressive pick for 2017.
I use mutual funds and ETFs in my Best Funds Now portfolio. It begins the year with seven positions. I am not an asset allocator. I do not currently own any bond funds.
#5-One of the stock funds that I currently own, ProFunds Financials UltraSector Fund Investor Class (MUTF:FNPIX) is a leveraged 2X mutual fund on the financial sector. There is not a sector in the market that should benefit more from rising interest rates more than the financial sector.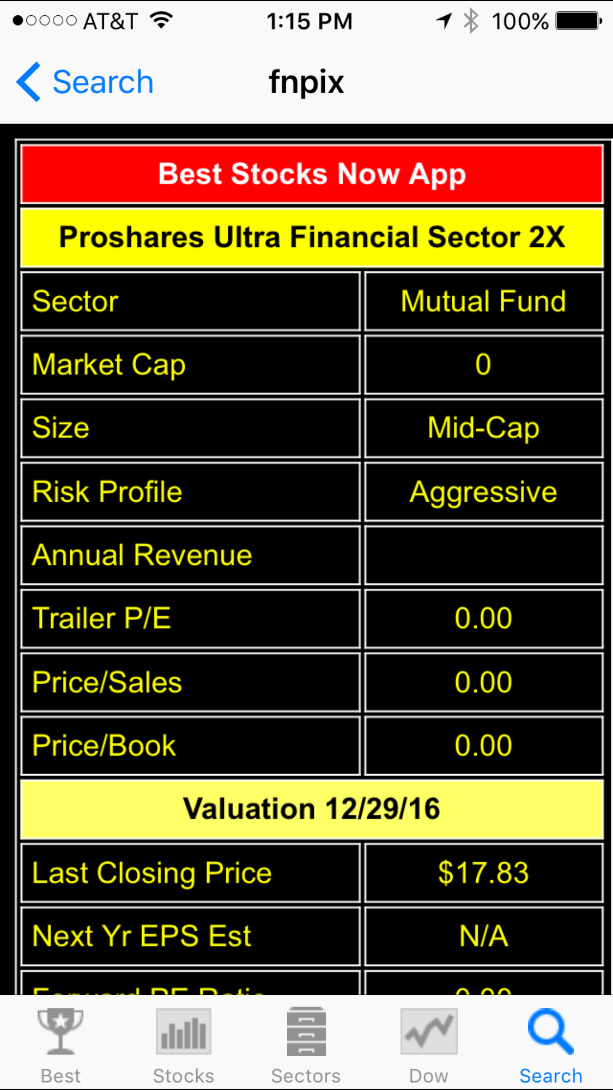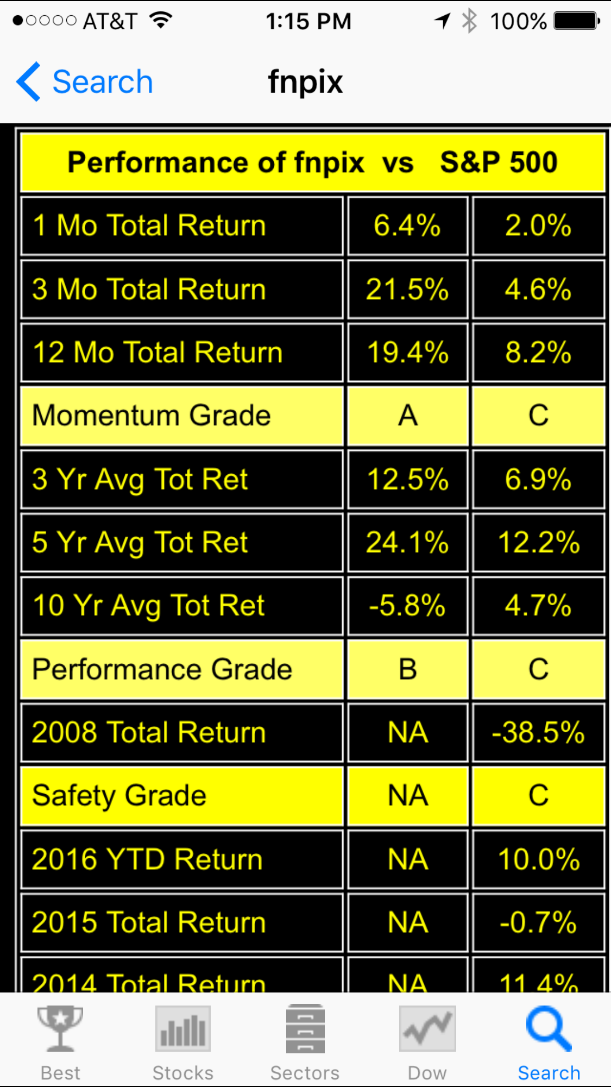 Data from BestStockNowApp.com Data from BestStockNowApp.com
The fund has doubled the returns of the S&P 500 over the last five years and now it should benefit from a rising interest rate environment and a looser regulatory environment.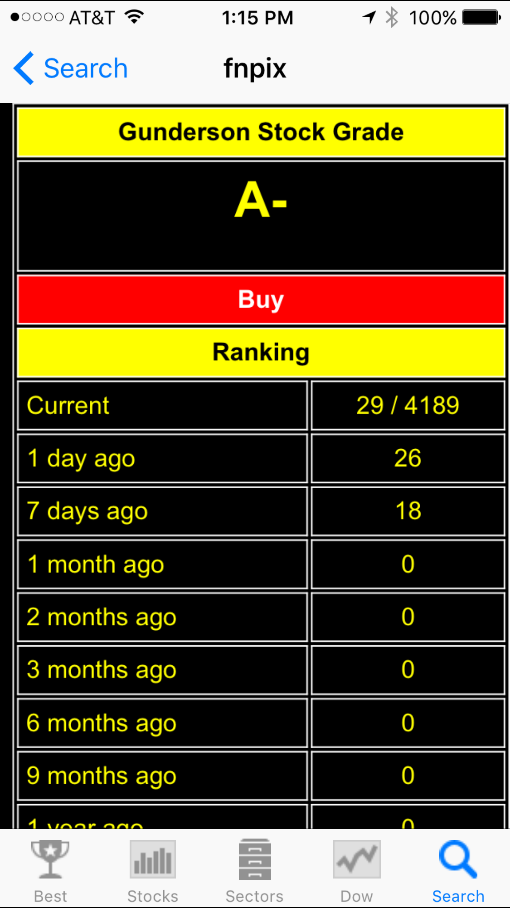 Data from BestStockNowApp.com
The fund is currently ranked number 29 overall in my Best Stocks Now Database.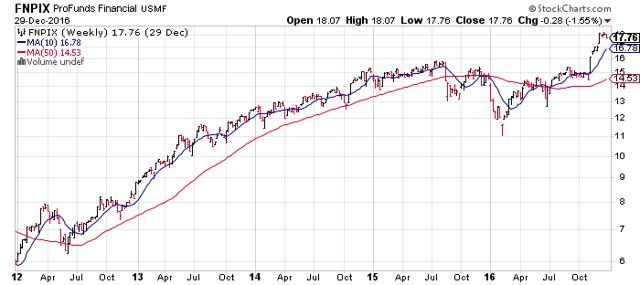 I am sure that there will be plenty surprises in 2017. Every year seems have plenty of unknowns that hit the market. All we can do is go with what we know now. My weekly newsletter put out a BUY SIGNAL on March 27, 2009. That BUY SIGNAL remains in place today as the Current Bull Market begins its eighth year.